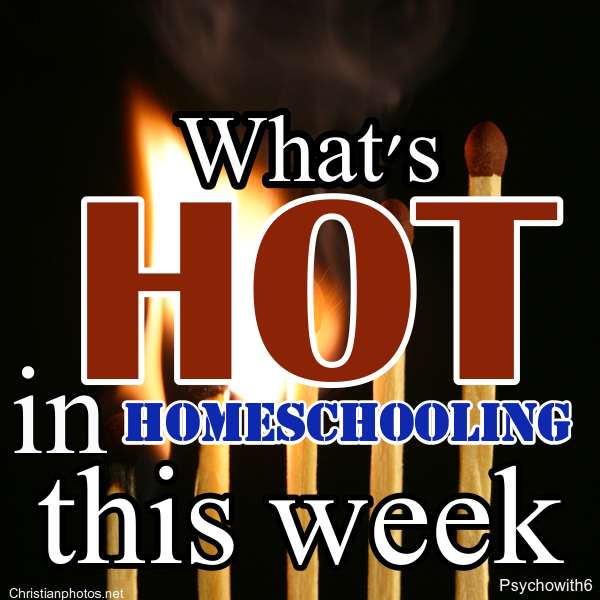 Spring may finally be here! Some of what's hot this week is perfect for those of you with spring fever. Thank you to everyone who linked up last week! If you are featured this week, please grab a button from the bottom of the blog. Want to get even more hot homeschooling goodness? Follow the What's Hot in Homeschooling board on Pinterest!
Spring Encouragement for Homeschool Moms
Jen at the Most Illustrious Mother offers us great advice for this time of year when many of us are just plain tired!
Homeschooling Before the Storm
Liz of The Hesitant Housewife helps us navigate the often scary transition that occurs after we take a break from school.
Ecclesiastes from a Homeschooling Mom's Perspective
Homeschool Circus shares further encouragement for us based on Scripture. This would be great to print out and read instead of gorging yourself on chocolate!
30 Gardening Ideas and Activities with Kids
I'm not a gardener, but these activities are enough to have me considering some dirt time. KC Edventures has wheelbarrows full of ideas.
Ask a Next Generation Homeschooler About Curriculum
Ever wonder what a mom who was homeschooled would use to teach her own children? Wonder no longer! The moms at NextGen Homeschool share their experiences.
Speaking of curriculum, few things are more exciting than the word FREE. Guest Hollow has made a variety of curricula (history, science, math) available at no charge. I'm particularly interested in the ancient history for next year as it can be used with Mystery of History (and also Story of the World).
Now it's your turn! Link up what's hot in your homeschool this week. Link to this post or use the What's Hot button on the bottom right.



read more