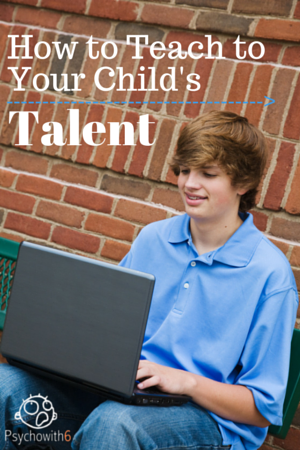 Early in my homeschooling, I was blessed to hear Joyce Herzog say:
Our children are unlikely to be employed in their areas of weakness. Most likely they will be employed in their area of strength.
Yet we tend to focus an inordinate amount of teaching time on fixing weaknesses–not maximizing strengths.
But exactly how can we make a connection between our child's strengths and future employment?
I had no idea until I met Jonathan Harris and read his book How to Discover and Develop Your Child's First 100 Hours of Talent. I loved the idea of putting all the pieces of my child's life together (his strengths, his interests, our family's interests, and the resources available) and seeing what picture appeared. I did work through the exercises in the book and had some vague ideas of what skills my two oldest boys still at home should be focusing on. I even wrote about it here. But frankly, I put it on the back burner. More pressing matters took precedence until Jonathan contacted me and offered to do a consultation. I'm so glad he did.
I suspect that most homeschoolers are like I am–not overly concerned about our children's future until it's time to think about college or employment after graduation. And that's a shame. We have so much more time to devote to developing our children's talents than parents whose children are in traditional schools. I wasn't taking advantage of the time and Jonathan motivated me.
Our Consultation
Jonathan and I spoke about both my sons–their strengths and their interests. Then I shared with him that our family has a passion for selling books. One of my sons had already helped my husband at a librarians' conference and the next oldest would be doing so at the upcoming conference. I explained that my current passion was to write a language arts curriculum and start a homeschool publishing company that my kids could be a part of. Even as I spoke, I was starting to make some connections. And can I say what a joy it was to talk about my sons? What a rare opportunity it was to share with someone else the gifts I see in them and the hopes and dreams my husband and I have for their future. Jonathan gave me the assignment of completing the questions in his book again and determining what talent we might work on developing in the coming months.
Family Discussion
After finishing my homework, I talked with my husband and the boys. I originally thought that my younger son would love to help my husband in his business, but my husband didn't feel he would have enough meaningful work to keep him busy. We decided that we wanted him to have a business education so we planned to have him work through Micro Business for Teens. I felt my older son, with a gift for grammar, would be well suited to helping me complete the curriculum I'm writing. We agreed to pay him a training wage while I was teaching him and then more as he was working independently.
I reported our plans to Jonathan, who thought we were on the right track. I thanked him profusely, because I hadn't really thought how my son's talent could be developed in a way that fit with our family goals, too.
Update
Jonathan asked me how things were going and I told him, but things have changed since my report.
I trained my older son to format the text I had written. Everything went well and he was meticulous, so I was pleased. But a problem came up. He began studying in earnest for the ACT and taking outside classes and doing more at church. I couldn't get him to devote time to it, pay or no.
My younger son had a similar issue with new curriculum coming to my attention that I wanted him to use. The Micro Business books kept getting put on the back burner.
I still needed help formatting my books, so I started looking into hiring a foreign editor. The experience I've had hiring non-English speaking people for other work had me cringing at the thought of explaining what I wanted done. Then I realized that my younger son was completely capable of formatting text. I just hadn't thought of him, because I was so focused on my older son's English gift.
I sat down to train my younger son how to format the workbook material and he took to it immediately. Not only that, but he is much more motivated by money than his older brother (thus, we wanted him to learn about business). What I found is that my younger son's enthusiasm motivated my older son. He is having to spend less ACT prep time, so will return to formatting the text for me. Meanwhile I am beyond thrilled with all the help. I will be able to publish the first volume sooner than I had expected. Meanwhile, I will be able to include my younger son in the business side of what I'm doing–invaluable hands-on learning. Our original plan is still intact (my younger son will work through Micro Business for Teens), but his experience helping me is the primary focus.
How You Can Teach to Your Child's Talent
This experience isn't just helpful if you have a family business. Jonathan's personal story of how his son began selling drone photography services to businesses is fascinating! You can determine how to steer your child toward his strengths, too.
First, get your copy of How to Discover and Develop Your Child's First 100 Hours of Talent. I am an affiliate because I believe in the process.
Second, contact Jonathan for a consultation. Yes, it's a paid service, but it's so worth it to get direction in helping to shape your child's future. I appreciate so much that Jonathan shares my Christian values and recognizes the power of prayer in the process.
Third, engage your child and spouse in prayerful discussion. It's exciting to grow beyond math and science and literature to life application. In this ever-changing economy, we have to do all we can to help our kids develop their talents in a way that makes them valuable employees or producers.
Fourth, begin training. You may not be the one who will teach your child the skills he needs to develop his talent, but you can arrange the teaching–whether that means purchasing materials or getting a tutor. If you are the primary teacher as I am, be sure to schedule time for training so it doesn't get put on the back burner. (I'm speaking to myself here, too!)
Finally, keep evaluating how it's going. My experience shows you that your first plan may not be the best one, but you will succeed with perseverance and prayer.
Be sure to follow my high school reviews board on Pinterest. High school reviews are hard to find! And if you want more ideas for teaching to your child's strengths,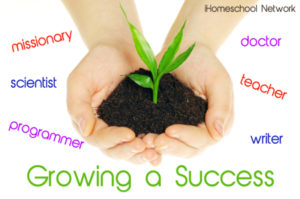 read the "How to Grow Your Child" posts from iHomeschool Network.