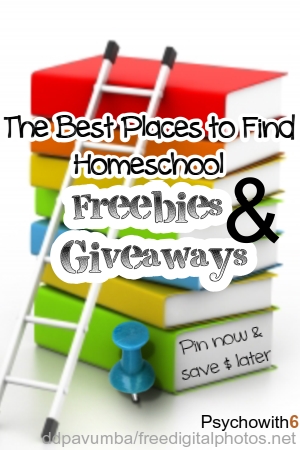 If you're like most homeschoolers, you've come across some great freebies — whether it's a website, a whole curriculum, or a printable you can use in teaching your children. Maybe you've even heard about a book, curriculum, or iPad giveaway that you've entered.
The good news is you don't have to hope that you hear about good deals like these. You can stay informed with this list of the best places to find homeschool freebies and giveaways. Pin it, bookmark it, and share it with your friends.
Your Favorite Curriculum or Website Mailing List
Signing up for the mailing list of your favorite homeschool or educational website will provide you access to exclusive freebies and giveaways. One of my favorite mailing lists is Notgrass. I've enjoyed excellent free unit studies from them.
Freebies & Giveaway Websites
Free Homeschool Deals – this site is hosted by Jamerrill Stewart, who not only offers information on great freebies like printables and ebooks (including free Kindle books), but has been very generous with me personally. The Once-and-for-All Meal Plan was featured on Free Homeschool Deals.
Money Saving Mom – Jamerrill also shares the best freebies here, a site where you can find more ways to be a frugal mom.
Homeschool Giveaways – Carrie Fernandez is another generous lady. Subscribing to this site will ensure you get valuable freebies. I got a curriculum I am using this year that sells for over $30!
Blessed Beyond a Doubt – Jill links to others' printables, creates her own great printables for readers and subscribers, and lists free Kindle books of interest to homeschoolers. I shared the easiest record keeping system ever with her readers.
Homeschool FreeB – a round up of freebies available every day.
Teaching With Cents – daily freebies and deals for educators.
CurrClick – a very impressive list of free ebooks, lapbooks, and unit studies.
Giveaway Tools Daily Linky – not only homeschool-related giveaways, but many are.
Christian Book Distributors – Christian giveaways, not necessarily homeschool-related.
Good Reads – can find Christian book giveaways, not necessarily homeschool-related.
Imaginative Homeschool – offers a giveaway linkup
Giveaways
Are you unsure of how to enter a giveaway? Rafflecopter is a popular means of hosting a giveaway and has an explanation for you: How to Enter a Rafflecopter Giveaway. Some other sites to check for giveaways include:
Blog Giveaway Directory – may not be homeschool related.
PunchTab Giveaways app – This app will allow you to search for giveaways using PunchTab rather than Rafflecopter.
Low Entry Giveaways on Mom Bloggers Club – The more popular sites will offer you a lower chance of winning. This site which offers giveaways that are not all homeschool related, only features giveaways that have low entries.
Last Chance Giveaways – On the same theme, this site has low entry giveaways that are not all homeschool related.
Printables
Printables are digital products that you can print at home. Many of the websites above offer free printables, but these sites specialize in them.
Donna Young – featuring printables in many subject areas, her handwriting printables (including every kind of paper) are especially impressive.
Teachers Pay Teachers – this website offers many freebies as well as printables for purchase from teachers who may not be homeschoolers.
iHomeschool Network – featuring printables from many homeschool bloggers.
Meet Penny – includes a link-up for homeschool bloggers to share printables they've created.
Confessions of a Homeschooler– has printables listed by subject.
Unit Studies
Amy's Wanderings has a great list of free unit studies.
Homeschool Share has another list of unit studies that I've used.
Free Kindle Books
This About page lists 25 places to find free Kindle books.
Free Apps
Many educational apps have promotional days when they are free. These apps alert you to these deals.
Amazon's Free App of the Day – Android app, not necessarily homeschool related.
iTunes Free App of the Day app – not necessarily homeschool-related.
Facebook
Facebook is a great place to find exclusive freebies and giveaways. Like the pages of your favorite curriculum vendor or blogger so you won't miss out on great deals. Many pages offer a freebie simply for liking. Other pages have Facebook parties where prizes are offered only to attendees. Your odds of winning are excellent! Here's how to participate in a Facebook party.
Have you liked the Homeschool Sanity page?  Some other pages you should be sure to like include:
Free Homeschool Deals – Jamerrill Stewart
Homeschool Giveaways – Carrie Fernandez
Homeschool Deals and Freebies Group
Pinterest
Pinterest is ideal for finding freebies. You can find giveaways, too, but often you'll see a pin when the giveaway has ended. Search Pinterest for the exact freebie or giveaway you want, using those terms. You can also follow pinners or boards to have the best deals show up in your Pinterest feed. I pin freebies to subject-specific homeschool boards and to What's Hot in Homeschooling. Follow me and the following boards so you can pin and share.
Free Homeschool Deals – Jamerrill Stewart
Free Homeschool Printables – Jamerrill Stewart
3 Boys and a Dog's Board – many freebies shared.
Vicki Arnold's Giveaways Board – if you're on Pinterest frequently, you can enter these before they're gone.
Google +
Google+, if you're not familiar, is like Facebook only centered around interests rather than friends. Because there are fewer people using it, your odds of winning giveaways featured here are better. Freebies that may get lost in the fray may also better catch your attention here. As with Pinterest, you can search for freebies and giveaways and find relevant posts. I'd love for you to add me to your homeschool circle. You can also join these two communities:
Homeschool Giveaways Community
Twitter
Search Twitter using these hashtags (#homeschool #freebie #giveaway) and you may discover just what you're looking for. As with Facebook, consider attending a Twitter party to win a prize reserved for party attendees. Here's a guide if you're a Twitter party beginner.
Are you following me on Twitter? I share giveaways and freebies that I don't have space to include in What's Hot in Homeschooling.
Google Alerts
Do you know you can set up Google alerts to find out about exactly the freebies and giveaways you're looking for? Perhaps you'd really like to win an iPad mini. Just enter iPad mini and giveaway as search terms and new posts that include those terms will be sent to your inbox.
Small Blogs
Smaller blogs are motivated to offer amazing freebies and giveaways to gain new readers. These blogs are likely to have low entries, too. Please remember that bloggers and businesses offer you freebies and giveaways in good faith. Please don't subscribe, get the freebie, than immediately unsubscribe or share material with friends who haven't subscribed. Thanks so much for your understanding.
Free Homeschool Resource Lists
I couldn't possibly list every free website available to homeschoolers, and isn't that wonderful? I can offer you these lists of the best free websites, however.
The Homeschool Buyers Co-op List (also a source for great deals on the best curriculum)
Click Schooling – provides a free website for education every week day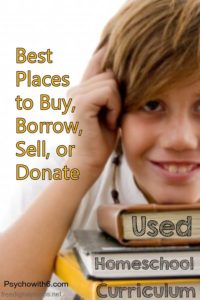 The Best Places to Buy or Borrow Used Homeschool Curriculum
Some of the places I listed in this post offer free curriculum. Be sure to check it out, too. Here's a site I found recently — the sister site to Free Homeschool Deals.  Curriculum Share – (members pay shipping only). If you can't find something you need for free here, you may be able to get it for very little money using the used curriculum list.
Are there other places to find homeschool freebies and giveaways you recommend? Please leave a link in the comments.