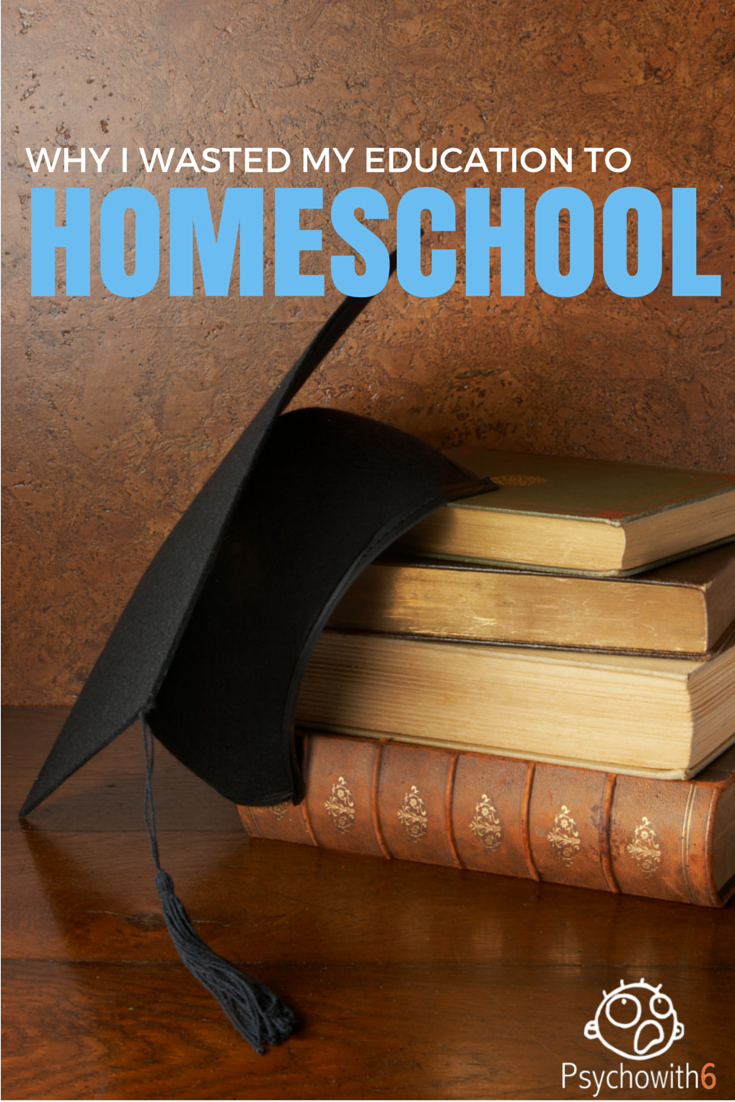 I have a Ph.D. in clinical psychology, but I don't see patients and I don't teach at the university. I gave that up to stay home with my children and homeschool them.
The most stinging criticism I received for that choice was:
"What a waste."
It wasn't "what about socialization?" or "how can you possibly teach children at different levels?" or "I would be crazy being home with my kids all day." It was "Don't you think you're wasting your education?" that got to me.
Truth be told, there was a part of me that agreed with those critics. I had accumulated $30,000 in debt for my education. I had also invested ten long, tearful years in school and practice for the privilege of calling myself a clinical psychologist. I could have helped hundreds of people had I continued practicing the past 16 years that I've been homeschooling. Yet I chose to pour out my education for the sake of six little people who call me mom and not Dr. Wilson.
I'd like to tell you that I had thoroughly thought through that choice, that I had counted the cost, and that homeschooling was the clear winner in my deliberations, but that isn't how it happened. Instead I found myself pouring out what I thought was so precious without even fully knowing why. I just knew I had to. I wanted to.
I was like another woman two thousand years ago who was accused of waste.
"While Jesus was in Bethany in the home of Simon the Leper, a woman came to him with an alabaster jar of very expensive perfume, which she poured on his head as he was reclining at the table. When the disciples saw this, they were indignant. "Why this waste?" they asked. "This perfume could have been sold at a high price and the money given to the poor." Matthew 26:6-9
I wonder if, like me, this woman ever second-guessed herself. Who could she have helped? What else could she have become if she hadn't chosen to waste what she had? Jesus answered her question and He answered mine.
"Aware of this, Jesus said to them, "Why are you bothering this woman? She has done a beautiful thing to me. The poor you will always have with you, but you will not always have me." Matthew 26:10-11
There will always be people in need of counseling. These poor souls will always be with us. But my children won't be. My oldest has just finished his first year in college and day after day I think, "I wish I would have taught him this, too."
When I was counseling, the number one pain point for the people I saw was a disconnect with mom or dad. Mom or dad weren't there to guide, weren't there to teach, weren't there to encourage and the hurt of that carried on for decades. It's true that I have poured out my education–wasted it even–for the sake of six children I love so much. I never wanted them to sit in a therapist's office saying, "She was never there for me." In pouring myself out for my kids, I believe I've done a beautiful thing for them and for Christ, to whom I was being obedient. Not every mom is called to homeschool, but I was.
As hard as it was to hear how I was wasting my education when I chose to stay home, I was also so encouraged. At the time I was leaving the Christian practice I was in, a dad with his Ph.D. was joining us. When he learned why I was leaving, he said,
"I'm so proud of you."
I still get misty thinking of that. More than most, this man understood the sacrifice I was making–the sacrifice I am still making, with no regrets.
And so homeschooling mom who has wasted your education to homeschool your children, I want you to know I'm proud of you, too. What a beautiful thing you're doing.
I would love to get to know you better at Homeschool Sanity on Facebook.
Be sure to read more reasons iHomeschool Network bloggers chose to homeschool.