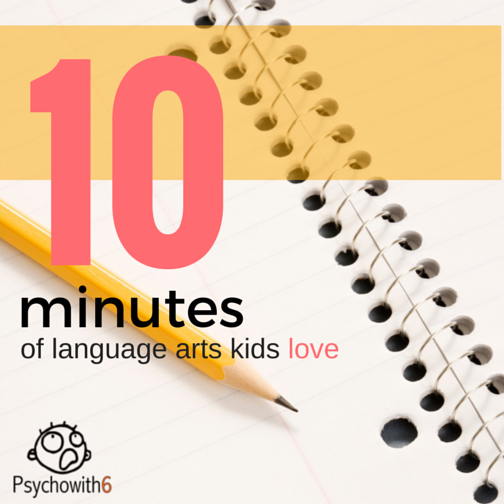 Let's face it. Teaching grammar, vocabulary, spelling, handwriting, and composition can take a LOT. OF. TIME.
Even if you love teaching language arts like I do, you don't have hours and hours to devote to it.
Then there's the problem of motivating kids. Sure there are a few kids who just can't wait to get their hands on language arts workbooks, but most kids would rather do chores! Hm. There's a chore motivator I haven't tried.
A Quick, Fun Way to Teach Language Arts
Like most of you, I wanted a quick, fun way to teach my kids who range in age. This year mine are in 3rd to 9th grade. I'm happy to report that I found a way!
In less then ten minutes a day, I have seen my children's language arts skills improve significantly. They remember what they've learned, look forward to the lesson, and the curriculum cost me less than $15. Interested? Read on!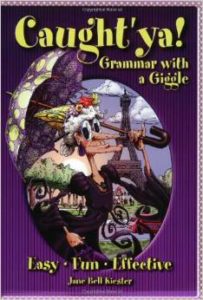 I found the book Caught Ya!: Grammar with a Giggle by Jane Bell Kiester on Amazon when I was researching language arts curricula. I was immediately excited about the concept.
Students are told an engaging story typically with one sentence a day. I write the sentence on a white board that they can all see.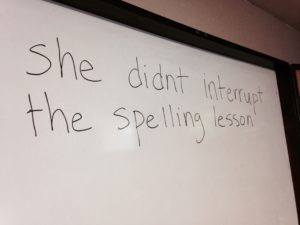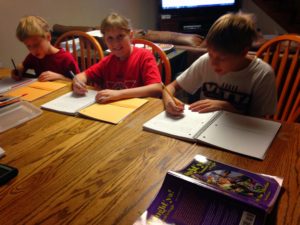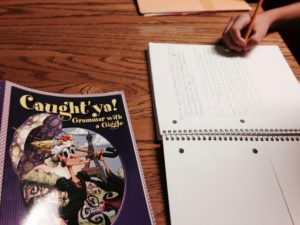 I define the new vocabulary word in the sentence and assure them that it is spelled correctly. The students must then write the sentence correctly in their notebooks while I walk around checking their work. If they have made a mistake, I say, "Caught ya!" My kids are very invested in not getting caught as they are writing the sentences with their siblings. When everyone is finished, I ask them to tell me what is wrong with the sentence and we review any spelling errors or grammar rules. Here are some of the benefits of this approach we've experienced.
It's an easy way to correct handwriting problems on the spot. I often make my kids erase improperly formed letters or words that are too close together. And no, I am not being too picky! I only make them correct significant problems.
Handwriting speed increases. The youngers try to keep up with the olders so they can be done. Handwriting speed is very important to a young student's confidence.
Grammar skills are practically applied. Students who can get every workbook problem correct often can't translate those skills into editing and writing. Learning where to start a new paragraph is a skill Caught Ya teaches that is rarely learned in workbooks.
The story line and competitive aspect helps students who are less interested in grammar pay attention to it. This has been especially true for my sons. Sometimes they can't wait to find out who is right about a particular error.
Caught Ya combines the benefits of copywork and editing into one short practice that is more effective than longer workbook lessons.
Are  you ready to buy? Wait just a minute.
There are some potential drawbacks to this approach.
The book is written for classroom teachers. A lot of time is spent explaining how to use this approach with a large group of students in and out of class and that doesn't apply to homeschoolers. I did recommend it to my teacher neighbor, however!
The book assumes you know language arts. The corrected sentences are given to you, but if you don't know all the rules for why sentences are punctuated in a certain way, for example, you will need to look it up. The fastest way is to use an online query or to turn to an English handbook. You can do this while your kids are writing so you still seem to know what you're doing. 🙂
The included stories are really long. You are encouraged to write your own stories for your students. I would love to do that, but I just don't have time. I use the included stories that are designed for a 5-day a week classroom. They move too slowly to complete on our homeschool schedule. I am choosing to just continue the stories into the next school year, but I would also considering editing the stories to shorten them.  There are many different Caught Ya books with different stories for different grade levels I would like to try. One of them may be right for you.
Just 10 Minutes? That's Not Enough!
I agree. Children need lots of time to read and be read to and plenty of time to write as well. What children do not need, in my opinion, is lots of time spent doing boring English drills that kill their interest in the language arts. Caught Ya is a great replacement for language arts workbooks or could be a great supplement for more enriching language arts teaching.
If you like the principles behind Caught Ya, I think you'll love my upcoming elementary language arts curriculum. Be sure to subscribe to Psychowith6 so you'll be the first to be notified. If you'd like more ideas for making language arts fun, check out my lists of grammar websites and games and follow me on Pinterest.