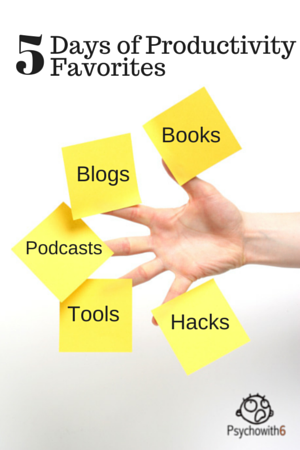 I love to write about productivity and miss the Year of Living Productively series and some of the great articles that followed like these:
6 Important Habits for Getting More Done
A Better Daily, Weekly, Monthly To Do List
Get More Done With a 1-Thing To Do List
Motivation for Doing What's Most Important Today
But for me, this is a year of being truly productive and realizing the dream of writing and publishing my own curriculum. (For you homeschoolers and parents with kids in elementary school, I will share more as soon as I can.) For now, I came up with a compromise. This week I will share 5 posts about my productivity favorites of the year. These are the books, websites, podcasts, tools, and hacks that I loved (that didn't necessarily come out last year) that I think you might enjoy too.
I am including all five links below:
6 Productivity Books You Should Read This Year
6 Productivity Blogs You Should Read This Year
6 Productivity Podcasts You Should Listen to This Year
6 Productivity Tools You Should Try This Year
6 Productivity Hacks You Should Try This Year
I would love to hear your favorites!
You may enjoy the other 5 Day Hopscotch posts from iHomeschool Network bloggers. Check them out!