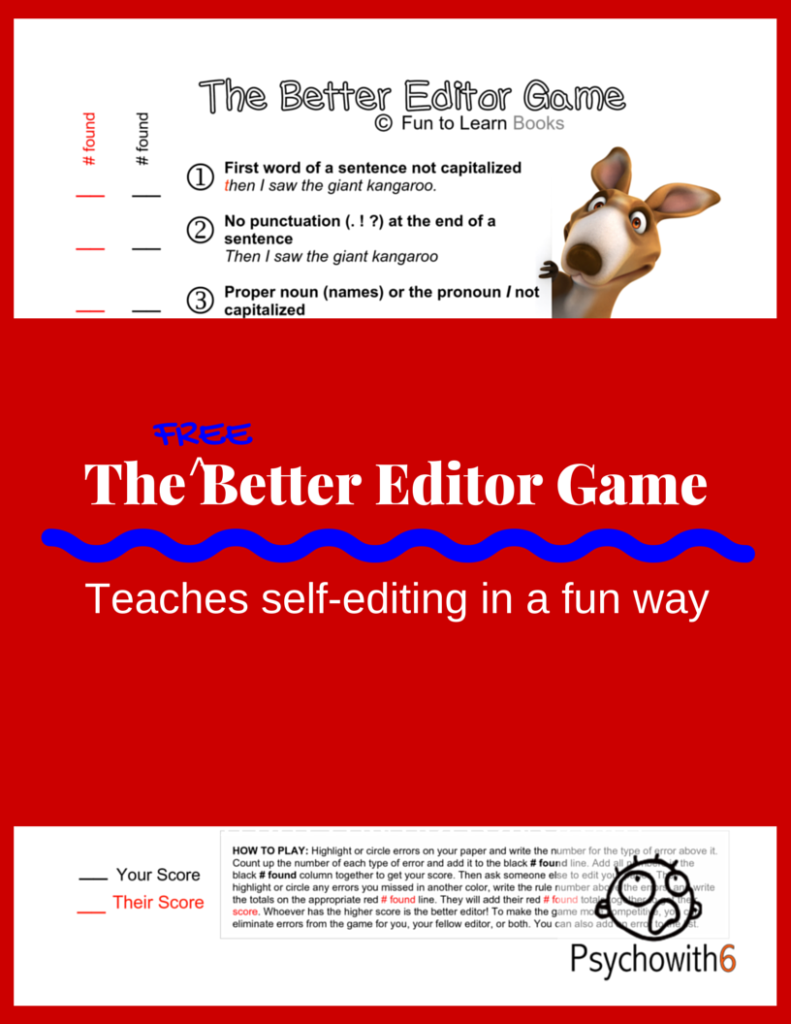 The biggest challenge for teachers when it comes to grammar and writing is helping kids edit their own writing. Teaching editing is especially difficult for homeschooling parents who don't feel confident in their writing ability. My homeschooling friends ask me to edit their students' papers all the time.
In the interest of teacher sanity, I created a game that will teach students how to edit their own writing AND will make it easier for you to edit your child's paper.
How the Better Editor Game Promotes Editing Skills
You can use the Better Editor Game for any writing assignment. Hand the game printout to the students. Printing in color is better as the errors are marked in red.
The student will read an example error and will look for it throughout their paper. This means of editing is much easier and clearer for students and teaches them to avoid similar errors in the future. Every error of that type found will be highlighted or circled and the error number will be added above.
When the student is done looking for errors (and the great thing is you can add your own error to look for), they total how many errors they've found. They then hand their paper and the game sheet to a peer editor or to their teacher. In most cases, they will WIN the game by finding more errors than the second editor. The win gives students confidence that they can edit their own work.
You Can Download and Print the Game for Free
If you like this game, be sure to subscribe to Psychowith6 so you don't miss my upcoming Ultimate List of Free Grammar Games and other great resources for teaching and life.
Click here or on the game picture below to access the PDF.