Trusting God with our homeschooling is the key to peace and joy. But how can we grow in our trust?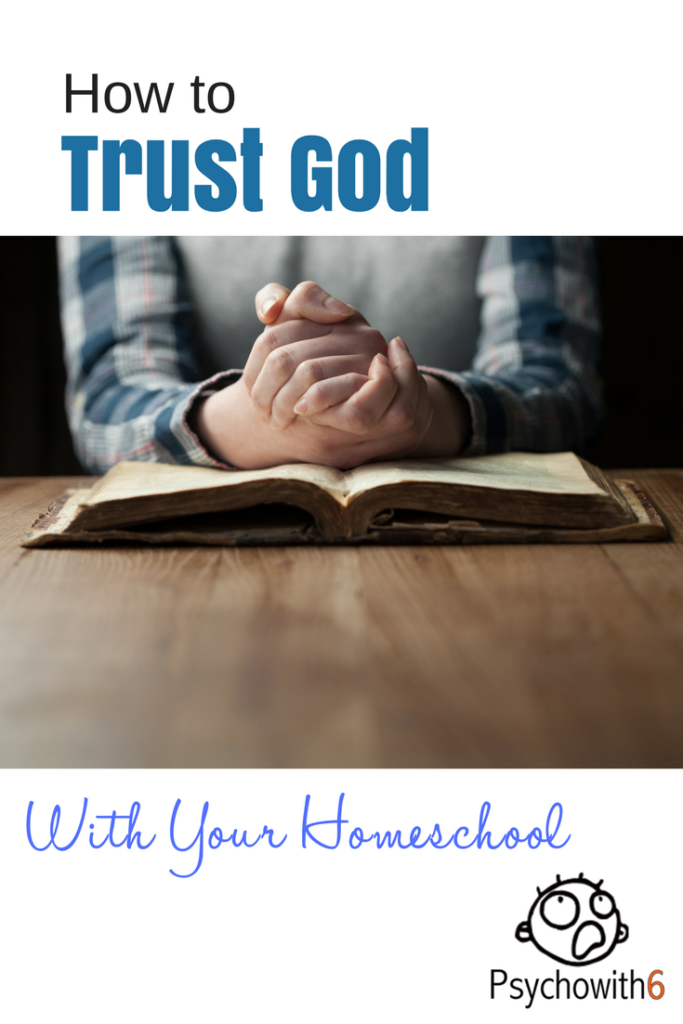 Before we can talk about strategies for trusting God more, we have to talk about what leads us away from trusting God in the first place.
Re-evaluate your strengths
My story is that I was called to homeschool, even though I did not want to. I knew nothing about homeschooling, including the fact that I would love it so much. Yet somehow after trying and failing, I determined that I had what it took to be a successful homeschooler. Like Paul in the New Testament, we can feel as though we are fully qualified by the world's standards. I am a psychologist, so it stands to reason that I would know how to discipline and motivate my children, such that they would be excellent students and people. I was also an A student myself. It seems that I would be able to understand the material that I would be teaching my children. And even though I have not taken any education courses, I did teach at the university level, so certainly I would be qualified to teach K-12. To top it off, I now have more than 18 years of experience in teaching my own children and my friends' children. I have successfully graduated two students, one of which was homeschooled all the way through high school. Both are getting A's in college. You can see that I have ample temptation to think that I am a good homeschooler in my own strength. I don't have to depend on God.
Even if you do not have a PhD and you haven't been homeschooling for as long as I have, you, too, have qualifications that tempt you to rely on yourself for success in homeschooling. Consider what those are. Perhaps you were a classroom teacher before you began homeschooling. Perhaps you have done a huge amount of research on homeschooling and you feel confident that you know you are homeschooling for the right reasons and have chosen the best homeschooling approach. Perhaps you have a very supportive family and homeschooling network. You feel as though you can't fail. Whatever your reasons for feeling qualified, those reasons can keep you from trusting God.
Here's why that's a problem. If your students do well, if they place in the Bible bee, if they are a top player in their sport of choice, if your student's testing suggests that he or she is well above grade level, you can take the credit. The Bible calls that pride. Yet none of our so-called qualifications are really ours. Every advantage I have in homeschooling my children is a blessing from God. I did not create any of them myself. The same is true for you. While taking pride in our children's successes can feel good while we are riding the high, the fall will be even harder. My children have embarrassed me on many, many occasions. The clinical psychologist has seemed unable to teach her children to use the potty on a reasonable schedule, to get overfood fears, or to make me look good in public. They have scored poorly on some aspects of achievement testing and have given evidence that's they haven't been taught certain key concepts. Guess why? Then there is the issue of misbehavior. If I'm going to take credit for my homeschooling because of my qualifications, I also bear full responsibility for my children's behavior. This burden of trying to ensure that my children succeed spiritually, academically, and socially is too heavy a yoke for me. If it is also too heavy a yoke for you, I advise you to consider that your worldly qualifications for homeschooling are worthless. If you acknowledge that you are weak and unable to help your children become all that God wants for them to be, your burden will be light. Your yoke will be easy. I know I am simply not capable of training and teaching six children to their strengths, for the purposes God has for them. So many times I am at a loss when it comes to discipline, choosing curriculum, and arranging experiences that I think will prepare them for an uncertain future. I am weak, but therefore I am strong. In my weakness I can rely on God's strength and wisdom to home educate each of my children, and you can too.
Determine what you really want
The second way we can trust God in our homeschools is to reevaluate what we really want. At first we may think what we want is for each of our children to go to college on a full-ride scholarship. Perhaps we think we want our child to win a top award in the activity of their choice. But this isn't what we really want. We want children who trust and walk with God. We have no idea how to raise children who live this way, but God does. As a tenderhearted mama, I want everything to go smoothly for my children. Yet that path is unlikely to lead to a strong faith. I have to leave my children's salvation and faith life in God's hands. No matter how wonderful our Bible curriculum, our church, or our kids' Christian friends, God is the author and perfecter of our children's faith. What we really want isn't children who make us look good. What we really want is His peace. If I trust in myself and my own abilities for our homeschool, I know too well my shortcomings. I'm going to be perpetually anxious about my children's future. I know that there are things I've spent too much time on and things I haven't spent enough time on. I know my character has not been above reproach. I have been lax in parenting in some areas and overly strict in others. If my children and their future is up to me, I have a lot to worry about. But if I put my children's future and our homeschooling into God's hands, I can be secure. I know that He will either prompt me to make a change and to do His will or He will take my wesk efforts at homeschooling and use them for good. I can not only have peace, but I can have joy in my homeschooling.
I used to do public speaking for competition when I was in high school and college. Speaking when every word counted and I was being evaluated and compared was very distressing. I often had to run to the bathroom before a competition. I found it hard to sleep the night before competitions, too. But now that I speak without that fear, I enjoy it. I have no nervousness about it. In the same way, we as homeschoolers can rediscover our joy in homeschooling when we know that a record isn't being kept. And even when records are being kept by law, we know that it's God's responsibility to help us make the grade. Which of us would not rather have God's peace over pride in our children's accomplishments?
Be in the Word
To trust God in our homeschools, we must be in the Word. The Bible reviews God's work in His people's lives. We see that God's purposes are always accomplished, despite his people's failings. No plan of His can be thwarted, not even by us. Make time to read scripture as frequently as you can. Read scripture while you are nursing, listen to Scripture while you are walking, read the Bible as part of your homeschooling. However you are in the Word, read it to refresh your faith in a trustworthy God. Don't read as an obligation but to fulfill your need for trust in Him — so you can return to His peace in your homeschooling.
Review how God has helped us through the years
The fourth way we can trust God in our homeschools is to review how God has helped us through the years. The Israelites constantly reviewed God's mercies and miracles in their lives. They told their children and their grandchildren about them and in the process were reminded that God was trustworthy for them as well. We can and should do the same in our families. Consider all the worries you have had in the past. Think about all the tough situations you have been through. If you're like me, most of the things you worried about did not happen. Your worry was wasted time and energy. And those things that you did experience that were very difficult and painful, looking back you can see that God was sustaining you. You can see how He used what was meant for evil for your good. I do admit that we probably all have an experience or two that we don't understand. Maybe we still don't see God's purpose or hand in a situation that has caused us great pain. However, when we look at God's record in our lives, we see that there is ample reason to trust Him for those circumstances and our homeschooling too. We know that even if our daughter just doesn't get algebra, that God has a plan for her. He has a hope and a future for her. If we are having trouble finding homeschooling friends, we can consider how he has met our needs for friendship in the past and trust Him to meet our needs in the future. If we don't know where the money for books or activities will come from next year, we can remember how all our needs have been provided for thus far. As you consider the future, remember that God often provides for us day-to-day. He doesn't give us a five-year plan or budget. If God has helped us thus far, that is enough.
Read about how God has helped others
A fifth way we can trust God with our homeschools is to read the stories of men and women who have trusted God in far more serious circumstances than ours. We can read about men like George Mueller who trusted God with all of the finances needed to care for 10,000 orphans. We can read about men like Nate Saint whose premature death was used by God to bring a lost people to Him. We can read about men like Ben Carson whose academic career was less than stellar at the beginning, yet God enabled him to become a surgeon who has helped people in the most serious medical circumstances. Read the answers to prayer on the Guideposts website.
Pray little prayers
The final way that I want to share with you to help you trust God in your homeschooling is to pray little prayers. We can get the idea that God only cares about the big prayers, the relative who has cancer, the family provider who is out of a job, the poor people in oppressed countries. When we believe in a God who only cares about big prayers, it's understandable that we wouldn't trust Him in our homeschooling. Does God care about algebra? Does he care that your son still isn't reading? Does he care that you have no idea how you're going to get everything done before co-op? I can tell you that he cares about each of these things and so much more, but you won't believe me until you pray and see God's response. I have learned that God cares about frivolous things like rain messing up my hair before I give a speech, a close parking spot when time is of the essence, finding a dress for an important occasion that's on sale. He will answer these kinds of prayers if you pray them because He loves us. So often we forget that God is a more loving parent then we are. We care about these little requests that our children have, so how much more does God? To learn to trust God in your homeschooling and experience His piece, begin praying little prayers. Allow him to demonstrate His love for you in this.
Conclusion
In conclusion, reevaluate your strengths, determine what you really want, read God's Word, review how God has helped you over the years, read about how God has helped others, and if you will pray little prayers, you can learn to trust God more in your homeschool. This is my desire and I highly commend this goal to you in the new year.