Board games are a perfect way to teach language arts at home and in the classroom. Most students dislike traditional worksheets. Fortunately, board games are a very effective way of reinforcing concepts.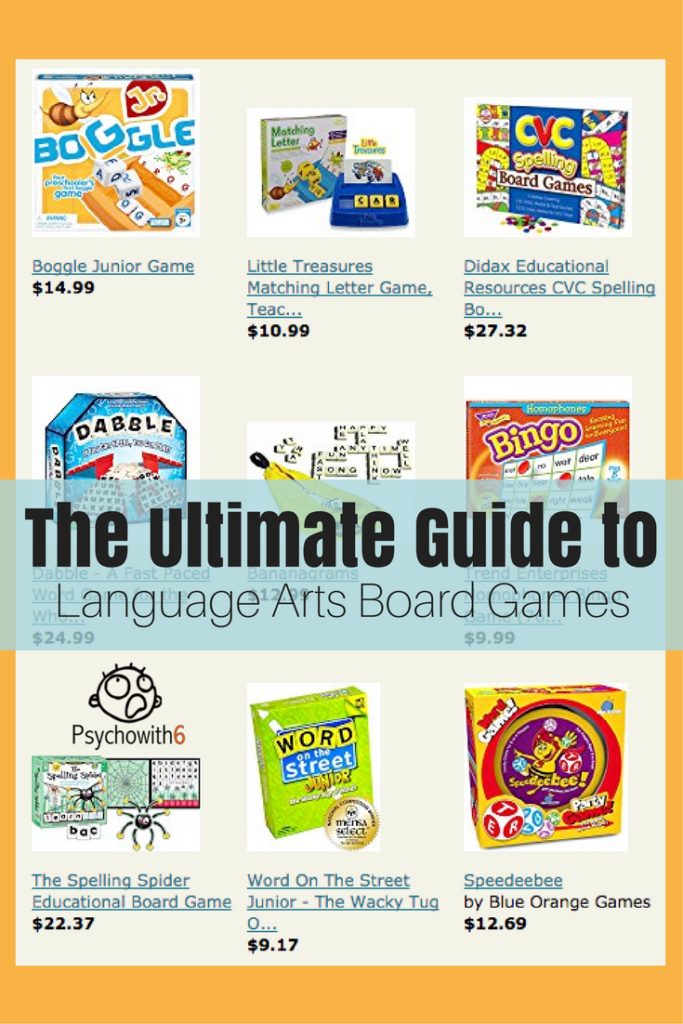 Because Grammar Galaxy teaches language arts concepts in so little time, your grammar guardians have plenty of time left to play board games.

If you already own some of these board games, plan a regular game time and use them. Family game nights are great, but board games can be played during school time, too.

Then add to your board game collection. Board games are a great gift for birthdays, holidays, and vacations. They're also an excellent way to keep the learning going over the summer — on rainy days in particular.
The problem is that good language arts board games can be hard to find.
I did the research on spelling / vocabulary, reading, grammar, and writing / storytelling games, so you don't have to. Be sure to pin this post so you'll have it for later.
Are you looking for free games? Check out my post on free grammar games and free vocabulary games. 
If you have a game you love and it's not listed, comment and tell me about it! Be sure to scroll down to the bottom of the post for more ultimate guide posts from iHomeschool Network.
Best Spelling / Vocabulary Board Games
When we think of language arts board games, spelling and vocabulary games are usually what we think of. Whether you have a beginning speller or a high school student, these games will expand your student's vocabulary and help with spelling in a fun way. One that isn't available on Amazon is Verbal Volley.
Best Reading Board Games
Board games are a great way to help beginning readers relax. Older students can improve their reading comprehension and even their research skills with these games.
Best Grammar Board Games
Grammar doesn't have to be boring. I've learned that from students begging to do Grammar Galaxy every day. These board games will put even more giggles into the study of grammar.
Best Writing / Storytelling Games
Students who don't like to handwrite their stories and aren't proficient typers will love these games that will challenge them to use their creativity.
Be sure to subscribe below so you'll hear about more educational games to enhance your students' learning.
Check out the other Ultimate Guides from iHomeschool Network bloggers here.