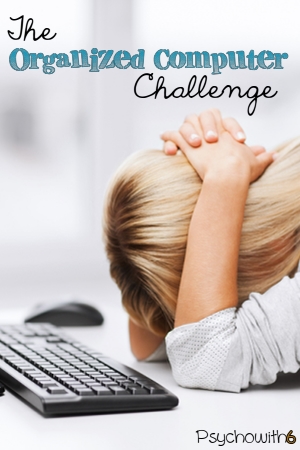 Most homeschoolers rely on their computers. We use them for:
curriculum
research
creating
communicating
worship (I play a family worship CD on our computer)
and much more…
The problem is neglecting our computers until they give us fits.
This week's challenge is all about making sure they work for our homeschools and not against them.
#1 Create a Safety Plan
We took steps to keep our photos and videos safe during the Memory Keeping Challenge. This week, we will take steps to protect our other valuable files: documents, records, music, contacts, and more.
Fortunately, most computer programs have automatic backups these days. Unfortunately, some programs require you to indicate that you want automatic backup ON in your settings. Never assume that your files are being backed up — that goes for your mobile devices as well. Take a few minutes to make sure they will be there if your computer isn't.
Determine how to back up files.  I prefer to have files backed up online. I use Dropbox for many different kinds of files. If you're comfortable with your files being backed up online, add at least one more level of safety. My huge list of Gmail contacts became corrupted. I hadn't made a backup of them. Never trust an online account to be your only backup of vital information. You may want to consider an external hard drive (or two) as a backup.
Make sure your security software is up to date. Anyone who's had a computer completely destroyed by viruses (me!) will tell you that it pays to download the latest version of your software program of choice.
Create a safety plan for your kids. There are many excellent methods of limiting kids' exposure to online predators and pornography. I've reviewed many of them. But I believe the most effective method is educating our children.
Explain to kids that there are unscrupulous people who would like to exploit their natural curiosity and desire for relationships. Clicking on an ad or sharing personal information can lead to unintended problems. It's really important to tell children that if they do come across pornographic material or give personal information to a stranger, that you will NOT be angry with them. Instead, you want them to tell you, so you can prevent the incident from becoming a serious problem.
Of course, this kind of education should be ongoing with information and discussions taking place when children reach a new stage of development. This video addresses internet safety in general.

#2 Maximize Performance
You need all your patience to teach and parent; you can't afford to deal with a slow computer, too.
If you have a slow internet connection, spend some time researching an economical option. And don't be afraid to pray! We had problems with our network for months until a friend at church, who works for our internet company, saw my Facebook update about it. He sent someone out who finally determined and fixed the problem.
Educate the kids not to agree to download extra adware when getting games or software online. This has been a primary cause of slowness on our PCs.
If you already have a slow computer, go through these steps for a PC and these for a Mac to see if the problem is solved.
#3 Organize Your Desktop
A messy computer desktop can be just as overwhelming as a cluttered work space. If you're using a PC, you don't really need those program icons. Deleting them shouldn't delete your programs, which can be run from the task bar or start menu. Everything in its place applies to computers, too.
The quickest way to clean your desktop is to create a folder and label it archive. Drag everything into it that you think you may need and go through it later when you have a folder system set up. Mark Hurst describes this approach in his free Kindle book, Bit Literacy .


Use a desktop wallpaper. IHeartOrganizing shares a file-naming strategy and pretty desktop wallpaper (just a photo that you set as your desktop) that you can use for organizing files you're actively working with.
#4 Declutter Unneeded Files
Take 15 minutes and delete files you don't need. To make this practice easier in the future, consider having a "To Delete" file. I often download files I know I won't need later to this folder.
These are the previous weeks' challenges:
Organized Homeschool Challenge
Week 1: Daily Devotions Challenge
Week 2: Daily Routine Challenge
Week 4: Memory Keeping Challenge
Week 5: The Decluttering Challenge