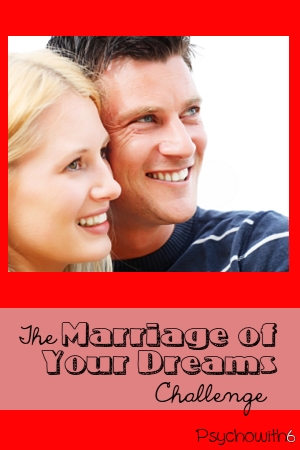 The homeschool lifestyle can leave marriage at the bottom of the priority list. That's a dangerous pattern because nothing will threaten a happy, organized homeschool like a troubled marriage. This week we will take some simple steps that go beyond relationship maintenance to laying the foundation for the marriage you've always dreamed of.
#1 Evaluate Your Marriage
Most couples avoid marriage counseling until the problems are serious. You can take the first step that a professional would take: assess where your marriage is today.
For many couples, the prospect of taking an honest look at the health of their relationship is a frightening one. But failing to take stock is the biggest threat. You and your spouse should answer these 7 questions (include the two questions about your relationship with Christ that a commenter added). If you're anxious about this, agree with your spouse that if this honest discussion creates conflict you can't resolve, that you'll see your pastor or a counselor for help with communication and conflict resolution skills.
You can also evaluate your marriage by listening to and discussing my interview with Dr. Don McCulloch, the author of Perfect Circle: A Husband's Guide to the Six Tasks of a Contemporary Christian Marriage this week on the Homeschool Sanity Show (published on 2/11/14).
#2 Plan Regular Time Together
When we think of the marriage of our dreams, many of us picture romantic dates and vacations. The truth is that dream marriages are grounded in the everyday experience of communication, recreation, and intimacy. If we don't have enough ordinary time together, expensive dates and vacations won't be enough to get us by.
Hopefully, you and your spouse have agreed on a regular time to pray together. If not, do that today. Then decide together when is the best time for the two of you to talk, have fun, and make love on a regular basis. Depending on the season of life you are in, you may have to schedule time. While scheduled time isn't traditionally romantic, it is very effective in strengthening a marriage. The best time to devote to your relationship will likely change as your family changes.
#3 Plan Special Time Together
Date nights away from home, couples retreats, and vacations are the icing on the cake. Dates don't have to be expensive. Tip Junkie has dozens of cheap and creative date ideas for parents. Some of them are perfect for Valentine's Day this week. If you need child care, consider exchanging care with friends who would also like to have a date night.
Consider attending a marriage retreat. I recommend a Family Life Marriage Conference. Also, see if your church offers a marriage retreat or Bible study. We organized a Love and Respect study with other couples and loved it.
Even getting away for a night (or having the kids out of the house for a night) can be renewing for your relationship. Pray about it and let your friends and family know you'd like to have a vacation with your spouse. God may provide for this in unexpected ways.
#4 Speak Your Spouse's Love Language
Have you asked your spouse what would make for an ideal Valentine's Day (or other occasion)? You may be surprised by the answer. Not everyone is entranced by roses and expensive dinners out. If your spouse's love language is words of affirmation, a hand-written love letter may be a treasure. If your spouse's love language is acts of service, a favorite meal prepared at home may be just the thing. If your spouse prefers physical touch, you'll know what to do. 🙂 If your spouse's love language is quality time, step away from the digital devices and act like you have all the time in the world to do what your spouse wants. If your spouse enjoys gifts, ask the kind of gifts they prefer (something they request, gift cards, or surprises). Consider reading and discussing The 5 Love Languages with your spouse.
If your spouse doesn't ask what would make for an ideal Valentine's Day for you, share anyway! If you love surprises, clarify the kinds of surprises you'd love.
Do you do anything special for Valentine's Day?
Next week's challenge is The Confident Parent Challenge.
These are the previous weeks' challenges:
Organized Homeschool Challenge
Week 1: Daily Devotions Challenge
Week 2: Daily Routine Challenge
Week 4: Memory Keeping Challenge
Week 5: The Decluttering Challenge
Week 6: The Organized Computer Challenge