A good education is something we all want for our children. I believe that full-time homeschooling has been the best choice for my children. But I know many people for whom that is not an option. However, supplemental homeschooling is always an option for parents whose child is in public or private school. I want to explain what supplemental homeschooling is; why it matters; when you should do it; and finally, how to supplement a traditional education with homeschooling.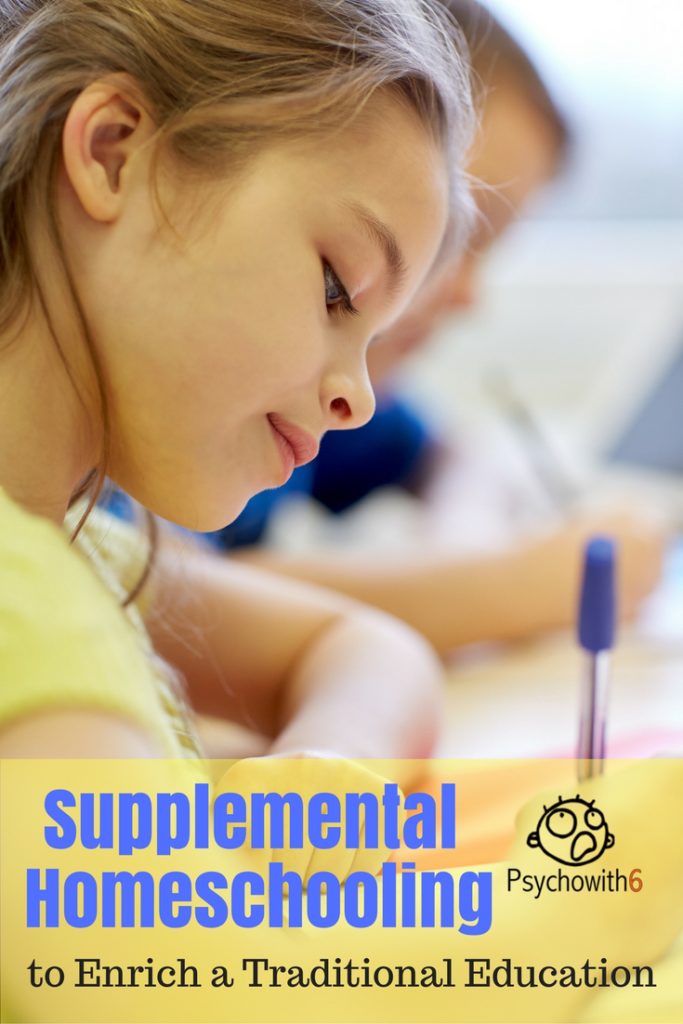 What is Supplemental Homeschooling?
I've been hearing more and more lately about hybrid homeschooling and that's not supplemental homeschooling. I consider hybrid homeschooling any combination of homeschooling and traditional school during regular school hours. For example, I know people who send their child to a public school on certain days of the week or only in the afternoons. I know homeschoolers who are very happy with this arrangement. But I consider these types of schooling situations to be homeschooling and not traditional school. Supplemental homeschooling means you have your child in a traditional school, public or private, but you want to add to their education when they are not in school.
Why Should You Supplement Your Child's Education with Homeschooling?
The advantages of homeschooling are clear. Not only can homeschooling produce a superior education with its focus on one-on-one tutoring, but it also builds strong relationships between parent and child. It can strengthen a child's faith when parents provide an enriching spiritual education. It can strengthen sibling relationships, too. If you are new to the possibility of homeschooling, you'll want to listen to the episode of The Homeschool Sanity Show called Homeschool Motivation on Demand. In it, I remind homeschoolers of the why of homeschooling. 
You may wonder why I'm recommending supplemental homeschooling on a homeschool blog. There are two reasons. First, we all have friends who do not homeschool. Perhaps they can't afford to give up one income in order to homeschool full-time. Perhaps one or more parents isn't in favor of full-time homeschooling. Or perhaps one of your friends is just afraid to take the plunge into full-time homeschooling. Whatever the situation, we can suggest supplemental homeschooling and bless both our friends and their children with this amazing lifestyle. However, there is a second reason why supplemental homeschooling is an important topic to address. There may come a time when we send our children to a traditional school. That was the case for me. I did not expect to be sending my oldest son school, but we did. I was thankful that I had these ideas for adding to his traditional education. Even if you homeschool full-time, I think what I have to share will give you ideas for supplementing your child's education in powerful ways.
When to Supplement a Child's Education with Homeschooling
The most obvious time for supplemental homeschooling is during school breaks. There are substantial breaks over the Christmas holidays, spring, and summer. Another opportunity for supplemental homeschooling for some students is in the morning before school. Some traditional students have to be at school so early that this may not be an option, but for other families, it would be. Students have time in the afternoon and evenings as well. I was so surprised by how early my son came home from school. In fact, on Wednesdays, he was home very soon after lunch. Those afternoons and evenings are time available for supplemental homeschooling. The next obvious time available for supplemental homeschooling is on weekends. But I know what you're thinking. Students in traditional school are busy. They tend to have homework and are involved in a number of activities. However, the suggestions that I have should not be overwhelming for a child in traditional school.
How to Supplement with Homeschooling
First, let's talk about opportunities that would be perfect for longer breaks from school. The most obvious option, which many traditionally schooled kids also take advantage of, is field trips. Homeschoolers love field trips. We tend to take advantage of many of them including those that are a bit off the beaten path. We don't just go to all the standard institutions of learning like the zoo and the science center, but we find interesting places to take our children to. If you are interested in supplemental homeschooling over a break, I recommend that you look up homeschool field trips in your area. No doubt homeschoolers near you have already put together a list of great field trip opportunities. A second aspect that makes a homeschooling field trip different than one your child might take in a traditional school is the preparation. There are wonderful materials available at some locations' websites that you can download and work through before you take a trip. But more importantly, you can read a number of books before taking a field trip. In addition to the nonfiction books you would expect, read related fiction. Homeschoolers call such works "living books." They teach in a more enjoyable and effective way. You can find a list of living books online for just about every topic. If you're having trouble, request to join a homeschool group on Facebook and ask for tips. I have a safe group that you are welcome to join at HomeschoolScopes.tv. Homeschoolers also have amazing free field trip forms for your child to keep track of what they've learned on a field trip. Here's a link to a free field trip form as well as to the Apologia field trip journal that you might be interested in purchasing.
During breaks from traditional school, you may also want to enroll your child in classes. Now, this is nothing new for traditionally schooled children to do. I'm not talking about the typical camps and after-school classes that kids tend to enroll in. Instead, I suggest using the opportunity to have friends or family members who have a skill in a particular area to teach that skill to your child. This is something that homeschoolers often take advantage of. We asked my father-in-law who was a businessman to share with our homeschool co-op how he got started in business. It was one of my favorite memories of teaching my children. He did such a great job. He passed out fake money to the kids that they had to use to pay their wholesalers for products and materials.
Another option for break time would be to enroll your child in a class that is really of interest to him or her. So instead of a traditional art camp, perhaps there is a class that teaches a particular technique. Homeschool support groups in your area are an excellent place to find information about teachers and classes that aren't widely advertised.
A final way to supplement traditional schooling during break times is to have your child do a clerkship or internship. This means you would talk to someone who has a skill that your child wants to learn in depth. For example, if you have a child who loves photography and you happen to know a photographer, ask the photographer to spend some time teaching your child on the job. Again, this is something that traditionally schooling parents could do, but may not think of it the way that homeschoolers do. Read about how to teach to your child's talent.
Aside from large breaks from school, what kind of supplemental homeschooling could you do in the mornings before school? This time of day is perfect for some Bible or character study. Reading a short family devotional, memorizing Scripture, or simply reading the Bible out loud together can enrich your child's spiritual education. If you're really short on time, you could have your child listen to an audio Bible or to a sermon online. Character Building for Families, Bible Gateway Audio, and Sermon Audio are some of my favorite resources.
But you're more likely to have time to supplement your child's education in the afternoon and evening. Of course, the problem with this time of day is that your child is likely to be tired and to have homework to do. However, this is a great time to supplement your child's history and language arts education. To enrich your child's history education, watch historical movies together in the evening. YouTube has an amazing number of short historical videos that you can watch as a family. I created a YouTube playlist of videos that go along with volume I of Mystery of History, a superb evening read aloud in its own right. (Note that some of the videos have been deleted since I created the playlists). That's a great place to start.  If you are interested in full-length movies that teach history, the book Learning with the Movies by Beth Holland is a great resource. You may be able to find these movies for free at the library or on Netflix.

The evenings are also the perfect time to read aloud. Whether you are reading historical biographies or Christian missionary stories like those from YWAM that my family has adored, or you simply choose to read a favorite book aloud, your children will be getting an excellent language arts, history, and even spiritual education in the evening. I created Grammar Galaxy to be a short story-based curriculum that takes just 10 minutes to read. The fun assignments can also be completed in about 10 minutes. If you have an elementary student who does not like to read or who struggles with language arts in school, Grammar Galaxy is a great solution that is perfectly suited to use in the evenings. Download a free lesson to try tonight.
The weekends are the perfect time to supplement your child's education with science. Kids in traditional school want to spend time with their parents, even if they act like they don't. Working on a chemistry experiment or robotics project together will be one of your child's favorite memories. Homeschoolers have amazing resources for doing quick and easy science experiments that use materials you most likely have at home. You can also easily turn a weekend walk into an opportunity for science education. I did a podcast with Cindy West of Nature Explorers, talking about how to do that. 
The weekends are also a perfect time to enrich your child's cultural education. If there are plays or symphonies that are appropriate for children in your area, take them to see them. If you want to supplement your child's experience of these plays or musical performances, you might watch related videos on YouTube or do some reading about the composer or play. If your child wants to see a movie that is based on the book, read the book first. As you're driving during the weekend, take advantage of excellent audio materials. I reviewed some historical audio dramas on CD that I think your kids would love. You can learn a foreign language, memorize facts a la Classical Conversations, and much more. 
Finally, weekends make an excellent time for service activities. Participate in activities through your church, community organization, or create your own. Have your children help you take care of an elderly neighbor's lawn or stock shelves at a food pantry. These experiences not only build character but can be added to an older student's resume leading to a potential scholarship. 
What are you waiting for?
Supplemental homeschooling can make a huge difference in a child's life and can strengthen family bonds as well. Please share this post on supplemental homeschooling with your traditionally schooling friends and keep this information available in the event that you send your child to school. Add some of these ideas to what you're already doing if you homeschool full-time and you'll be blessed.
Which of these ideas will you use first? Let's chat about it on Facebook.