Parents' reading habits are a primary determinant of children's reading habits. Our kids emulate us. That's why it's so important that we not only read to our kids but read for our own enjoyment. Did you know that reading a great book could increase your child's chances of school and life success?
But before you leave to read a book guilt-free, can we talk about your kids' writing habits? Writing skills are vitally important for your child's future, too, as I mentioned in the first post in this series. If your child is a reluctant writer, it should concern you. Not every child is going to be an avid writer, but it's important that we impart adequate writing skills to them.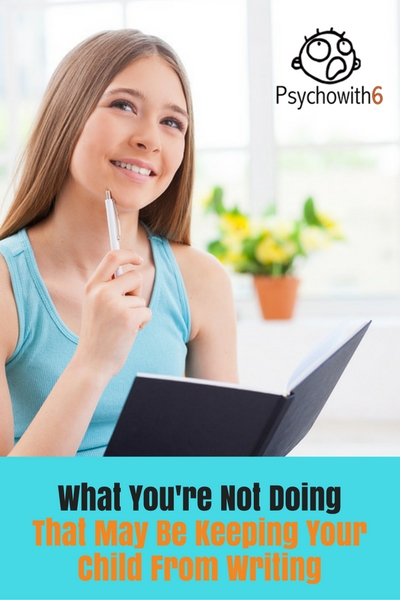 What You're Not Doing That May Contribute to Your Child's Writing Reluctance
Have you already guessed what I'm going to say? I thought so. If your reading habits have a major influence on your child's, it stands to reason that your writing habits do too.
"Oh no worries here!" you're saying. "I email and text all the time. My child sees me writing."
If that is the extent of your writing, that will likely be the extent of your child's writing. Your child needs to see you doing other forms of writing.
"But I'm not a good writer!" I can hear you saying.
If that excuse works, your child now has a free pass. He can argue that he isn't a good writer, so he won't write either. Now I've got you, haven't I?
"I love to write. I write all the time. So that can't be the problem," you might be saying.
If you write for work or blog, you child either may not see you writing or may see a disconnect between the writing you do and the writing you want her to do.
The Solution to This Kind of Writing Reluctance
No matter what your reason for not being a writing example to your child, I have a solution. It's easy and fun! I promise.
Do the writing assignments you give your child.
If you're repulsed by the idea, you may want to change your writing curriculum. Writing, like reading, should be enjoyable. More challenging writing assignments are appropriate for older children who have the skills they need to persevere. Young writers should have assignments that inspire them. In other words, I'm not saying that you need to write a 15-page research paper when your child does.
I like funny writing prompts for the purpose of writing with your child. The assignments are generally short, except when a child is enjoying himself immensely and writes pages of funny material. This is the kind of assignment you as a parent can enjoy. This kind of writing should not be focused on mechanics.
I have had the privilege of teaching writing to one of my friend's sons. He did not have punctuation, spelling, or grammar mastered. But he loved to write. I have helped him with his skills, but he possesses a passion for writing that has to come first. That's what we want our children to have. We can impart that by modeling it for our kids.
Have fun writing with your kids. Read them what you wrote and see if you can make them laugh. Writing with your children can be one of your best homeschooling memories. It is mine.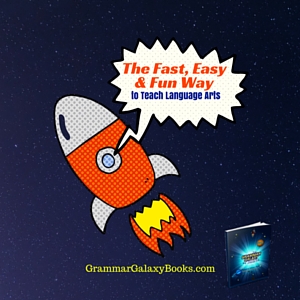 I have created a curriculum that teaches beginning writers the why behind writing and makes it fun. I'd love for you to preview a sample at GrammarGalaxyBooks.com.
Read the other posts in this 5-day series on teaching writing here.