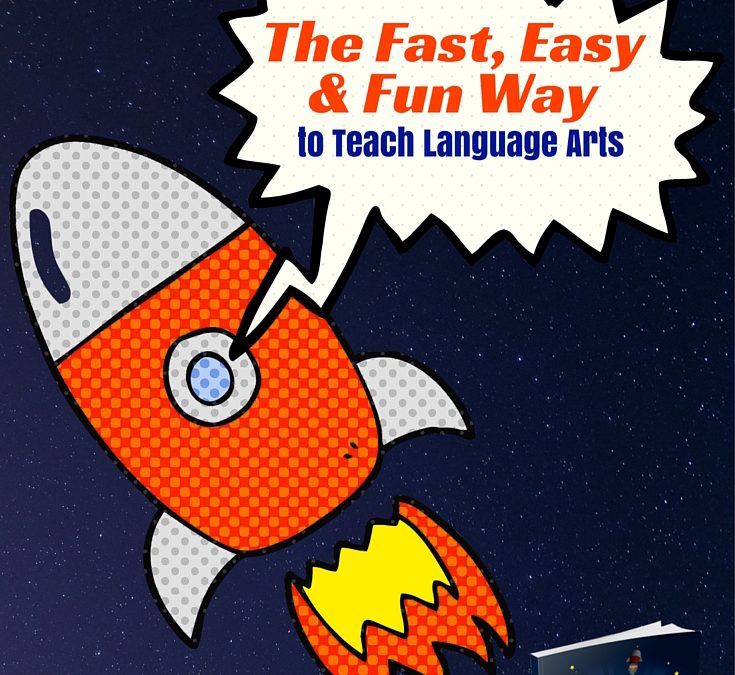 Language arts is critically important to our children's academic and life success. Fortunately, that doesn't mean teaching these skills has to take hours, be difficult, or even worse, be boring.
In my search for curriculum to teach my children to read and analyze good literature, build a strong vocabulary, spell accurately, use grammar properly, develop legible handwriting, write creatively, write to inform, and speak well, I found myself alternately delighted and depressed. Some things worked brilliantly–others, not so much.
After 17 years of teaching language arts to my own six children and eleven of my friends' children, I've learned there's a better way.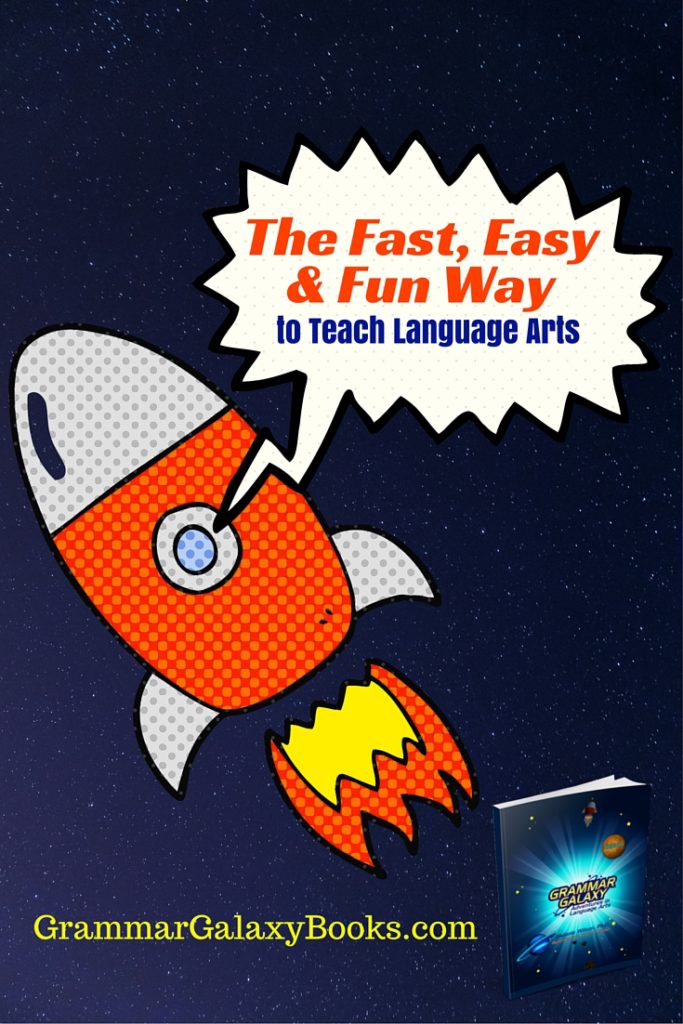 Language Arts Teaching Can Be Fast
My initial attempt at potty training my oldest son took a very. long. time. Once he was ready, it took no time at all. I didn't have to remind him or clean up accidents at night. He had it.
Teaching grammar, in particular, can be like potty training. You can teach the abstract concepts year after year before a child's reasoning has developed, or you can wait until teaching grammar takes no time at all. You can take your high school student through a course like English Grammar 101 and be done with that aspect of language arts in no time. Meanwhile, you can skip the dry grammar workbooks that could squelch your child's desire to ever learn it.
My fourth son was potty trained very fast because he happened to think potty training was fun. Formal teaching doesn't have to — and probably shouldn't — take a lot of time. This list of children's reading behaviors by grade levels makes it clear that elementary students cannot sustain attention for long periods. Kindergarteners' attention span is just 10-15 minutes!
The best way to use those minutes of limited attention in younger students is to read. Students who read (or are read to) frequently will develop better vocabularies, spelling skills, and writing skills than students who don't — even without workbooks.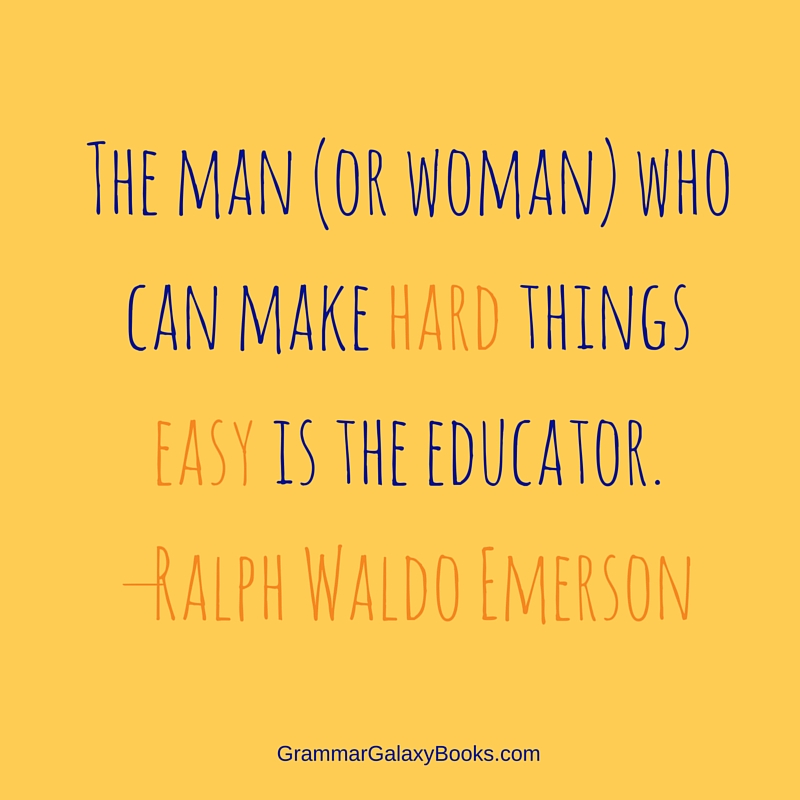 Language Arts Teaching Can Be Easy
I hear from many homeschooling moms who aren't confident in their ability to teach language arts. Some of these moms choose a curriculum that looks difficult so they feel confident their child will learn more than they did. Harder must be better, right? Wrong!
Many reluctant readers avoid reading because the books they're given are just too hard for them. The way to motivate them is to give them books they can be successful reading. As homeschooling moms, we want to choose curriculum that makes language arts concepts simple for us to understand, too.
Language arts teaching can be easy for parents by focusing on reading. Ask your child questions about what was read. Look up new words together. Spell words in the car. Write things incorrectly and see if your child can guess what's wrong. And did I mention the importance of reading? 🙂
Make language arts easy for your child by giving as much assistance as is needed. Read the directions for him. Allow your child to dictate spelling words or entire stories. Put off work that is too difficult in favor of learning what makes her feel successful.

Language Arts Teaching Can Be Fun
The best way to make language arts teaching fast and easy is to make it fun. Kids learn faster when they're having a good time and it's much easier to teach a happy child than a crabby one. This also works in reverse. Short, easy lessons are a lot more fun for kids than long, overly difficult ones. I've shared how to make grammar fun, but vocabulary, spelling, and writing can be fun, too.
I did my master's research on humor and learned that surprise is a key component of what makes us laugh. Read books with a surprising and funny twist. (Kids prefer funny fiction, so give it to them!) Surprise the kids by playing games instead of doing seatwork. Let them surprise you with their funny writing.
Let your child lead you in making language arts enjoyable. Incorporate your child's personality and preferences into your teaching. Does your child love to play video games? Have him read game hacks online. Does your student love movies? Read the book first and have a movie party to celebrate finishing it. Do you have competitive kids? Turn every aspect of language arts into a challenge.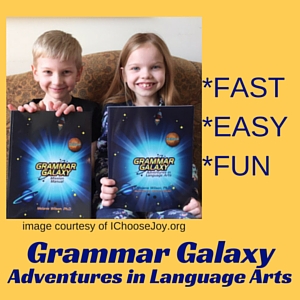 Grammar Galaxy is Fast, Easy & Fun Language Arts for Beginning Readers
I wanted a curriculum that was all of these things and hadn't found it, so I created one.
Grammar Galaxy is Fast.
Whether you're homeschooling multiple children or your child attends a traditional school, you don't have a lot of extra time. That's why Grammar Galaxy is designed to take just ten minutes of teacher/parent time a day. Your beginning reader can use the extra time to read and write for the fun of it!
Grammar Galaxy is Easy.
If reading and writing aren't your strengths, you'll love Grammar Galaxy. Concepts are presented in an easy-to-understand story format. And there's no prep work! Just read with your child and do the short activities that reinforce the learning.
Grammar Galaxy is Fun.
The evil Gremlin tries to destroy Grammar Galaxy and the guardians have to save it by completing missions. Grammar Galaxy includes humor and mystery, but it doesn't include dry exercises. Young writers are asked to do very little handwriting. Instead, they enjoy learning by doing.
You can click the "Learn More" button to download a sample and check out reviews or "Shop" to take advantage of introductory pricing that ends after April 17th.
I explain the story behind Grammar Galaxy and how to use it in the video.
read more