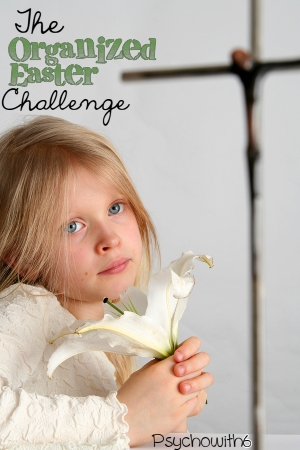 Easter is a very important celebration for my family. But sometimes, busyness gets in the way of preparing for it. If you'd like to have an organized Easter this year, join us in completing this week's tasks.
#1 Plan Easter events
Our church has two important Easter events besides our midweek and Easter services. We volunteer for one of them and invite friends and neighbors to both. Today is the day to put special Easter events on your calendar and issue invitations to those who don't normally attend church.
Today is also the day to plan family Easter celebrations. Determine the place and menu. If you're hosting Easter, aren't you glad you started the Spring Cleaning challenge last week? My husband's family has an Easter brunch every year and everyone brings different cut-up fruits for a fruit salad. Love it! Here's the link to the Amish Breakfast Casserole I frequently make.
#2 Plan spiritually
It's easy to get caught up in all the extras that surround Easter, and forget what it's all about. In past years, we have done Easter unit studies, read Easter devotions, watched videos about Easter, and made Easter treats (like resurrection cookies) that go along with Scripture. Last year, we were blessed by the video Christ in the Passover. Be sure to check out this list of great Easter learning links at Cynce's Place.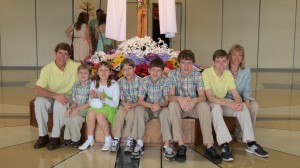 #3 Plan outfits
I'll admit it. I'm one of those kind-of corny moms who dresses her kids alike for Easter. Every year I say I will quit, but I can't! I love the family photos I get at church (even if I have a hard time keeping other people out of the photo!). I really will quit this year in honor of my 17-year-old son who has been such a good sport all these years. But that doesn't mean I don't have to plan outfits. It's no fun to realize the day before Easter that your kids have outgrown or worn out their nice dress clothes. The sizes you need are sure to be gone! And you don't need the stress of trying to decide what to wear yourself at the last minute. Plan outfits today and you'll be so glad you did next month. My favorite place to shop for Easter outfits is Kohls.
#4 Plan gifts and crafts
You've seen all the great Easter ideas on Pinterest, but if you don't plan for them this week, come the day before Easter, you'll be standing in line at Wal-Mart buying the egg dyeing kit, overpaying for a lame Easter basket, and trust me–you will not be in the Easter spirit! Ask the kids what traditions and crafts are most important to them. Pick up supplies today and plan time to do them. Doing these things with friends can be even more fun and provides an extra measure of accountability.
For Easter gifts, I usually give my kids things I bought on sale during Black Friday. My Christmas gift list for kids is still appropriate here, but I love to give them gifts for outdoor fun: hula hoops, bubbles, sidewalk chalk, squirt guns, scooters, sports equipment, and outdoor games.  I'm not opposed to a little chocolate either!
What Easter traditions do you want to be sure and plan for this week?
Here is the March Organized Homeschool Calendar to print and a list of previous weeks' challenges: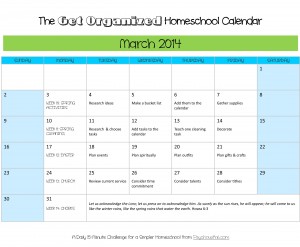 Organized Homeschool Challenge
Week 1: Daily Devotions Challenge
Week 2: Daily Routine Challenge
Week 4: Memory Keeping Challenge
Week 5: The Decluttering Challenge
Week 6: The Organized Computer Challenge
 Week 7: The Marriage of Your Dreams Challenge
Week 8: The Confident Parent Challenge
Week 9: The Extended Family Challenge
Week 10: The Bring on the Spring Challenge
Week 11: The Spring Cleaning Challenge