This is Week 11 of a Year of Living Productively
This week I tested whether scheduling my tasks made me more productive. Specifically, I used SmartDayPro on my iPhone. This was an unusual week for me because I was out of town for several days. Click here for details on my planned test.
How Scheduling My Tasks Saved My Sanity This Week
Helped me be realistic. It doesn't matter how many times I fail to accomplish a huge laundry list of tasks in a day, I continue to believe that today will be different. Scheduling not only enables me to see what I can really do, but what I canNOT do.
Allowed me to focus on the most important tasks. Once I admitted that I couldn't get everything done I would like to, I could focus on the tasks that I most wanted to address each day.
Gave me a sense of completion. Like DIT, scheduling provides a closed list of tasks that can be finished. When you're done, you get free time! As a result, I was motivated to get my work done more quickly.
How Scheduling My Tasks Made Me Crazy This Week
Rewriting tasks. The quickest way to get my tasks from IQTell into SmartDayPro was to record them manually. I didn't feel comfortable doing that until I'd made a paper list of possible tasks and then selected from it. So it was more time-consuming than some other approaches I've tested.
Doesn't accommodate Pomodoros easily. I really like working for 50 minutes and then having a ten minute break. I could certainly add breaks to my task list, but it's a little clunky when you have tasks that take varying amounts of time. I tended to see my calendar/task list on SmartDayPro as one continuous list that didn't allow breaks until I got it all done. It made me rebel against working.
Did Scheduling My Tasks Help Me Get More Done?
Yes. And probably more importantly, it enabled me to get the most important tasks done. It's not a stand-alone solution, but it's definitely an important piece of my productivity puzzle.
**UPDATE**
While I no longer use SmartPad, scheduling has become a critical factor in my productivity and was probably the single greatest lesson I learned from these experiments.
The Productivity Approach I'll Be Using for Week 12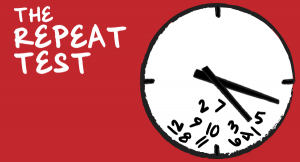 This week I'll be using The Repeat Test as described by Bruce K. I'll be using the Hourly Chime iPhone app for reminders.
The concept. One aspect of productivity is avoiding time wasters. Bruce suggests tracking your happiness with how you spend time every hour. If you're unhappy, you'll write down what you did that you felt was a waste of time. After doing this for a while, you'll identify activities to avoid and also times of day that are problematic. Bruce doesn't say so, but knowing we'll have to write down time wasters should help us prevent them in the first place.
If you'd like to join me this week, here's what you do. Read Bruce's short article on LinkedIn. Each day take a lined piece of paper and record every hour of the day you're awake along the left side of the paper. For me, that will be 6 am to 11 pm. At the top of every hour, take 20 seconds to review how you spend the last 60 minutes. If you're satisfied, do nothing. If not, write down what you did that you felt was wasted time. If you're interested in the Hourly Chime app, it's .99.
Click here to see how my week with the Repeat Test went.
If you've tried scheduling your tasks to increase your productivity, please vote in the poll below.
Here are the links to the productivity hacks I've tried so far: