This is Week 12 of a Year of Living Productively
This week I tested whether the Repeat Test would improve my productivity. The Hourly Chime iPhone app reminded me to determine if I was happy with how I spent my time in the previous hour. If not, I wrote down what didn't work next to that hour on a piece of paper. Scroll to the bottom of last week's post to read more about my planned test.
How The Repeat Test Saved My Sanity This Week
Helped me realize that I'm happy with my time management. While I know I have too many commitments, I was surprised that most of the time I felt I was using my time in the right way–even when I was indulging in leisure activities.
Helped me to limit time wasters. Knowing that I would have to ask myself if I was using my time in the best way kept me from spending too long online, for example.
Enabled me to identify areas for improvement. The only times I wasn't happy with time usage was when I was doing activities that should have been multi-tasked. For example, while I felt the phone calls I took were valuable, sitting while talking wasn't. I could have easily gotten some cleaning or laundry chores done and would have felt better about the hour.
How The Repeat Test Made Me Crazy This Week
Not a long-term solution. I loved the meekness of the hourly chime and I did remember to consider my time usage. But I can't see continuing this beyond this week. The motivation won't be there. However, I think doing this again in the future would be a good idea.
Doesn't consider the long view. I had one occasion where I was happy with my hour, but when I was pressured about a deadline because of how I spent my time, I reconsidered. However, I don't see any problem with recording time wasters later in the day if you change your mind.
Did The Repeat Test Help Me Get More Done?
Unequivocally, yes. I found it to be one of the more pleasant weeks, because the overhead of the method was low and the metric makes the most sense. Who cares if you get lots of tasks done if you aren't happy that you did them? Of course, I can see potential problems with people who are happy with how they're spending their time, but their colleagues and families are ready to wring their necks! The thing is, I doubt this irresponsible type would use this test anyway.
**UPDATE**
While I haven't used the Repeat Test specifically, I believe the 5 Minute Journal app and the scheduling method I use on Skedpal serve the same purpose. I am always asking myself if I am using my time in the best possible way. I think the Repeat Test is an excellent analog solution for procrastination.
The Productivity Approach I'll Be Using for Week 13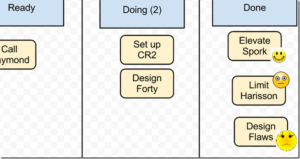 This week I'll be using Personal Kanban. I'll be using a small dry erase board I purchased at Target and small Post It notes.
The concept. Personal Kanban is a means of visualizing and limiting your work using Post It notes and a dry erase board. It's been used successfully in the workplace for teams, but is useful for personal productivity as well. The labels of the columns vary depending on your work, but at minimum there should be a place (even off the dry erase board) for backlog tasks. There is a column for work that is ready to be done or that you are wanting to work on soon. The Doing column is for active tasks. This is where limits are required. I will be working with a limit of 3. In other words, if I have three tasks I'm working on and find yet another I want to do, to be true to the method, I would have to complete one of the tasks, moving it to the Done column. I can't wait to use this as an excuse when my family wants me to do something for them. 😉 Although the idea is that everything you do be included in the system, so you see all the work you have in progress, I won't be dismantling my routines or taking the time to add them to the board. I will, however, use different colored notes for the major areas of work I have.
If you'd like to join me this week, here's what you do. Read about the basic philosophy of Personal Kanban. Decide what you will use to track your tasks. Doors, walls, windows, and file folders (putting the Doing and Done columns on the bottom of the file folder) are all options. This online Personal Kanban has a free trial. Decide which columns to use. I'm adding a couple. I have a Today column and a Pen column for tasks that can't progress because I'm waiting on someone or something. Decide how many tasks you'll allow to be in Doing at a time. Add your tasks to the backlog. For a week of testing, I'm only including tasks that I want to complete in the coming week. I'll be adding more as they come up. Work your tasks through to being done. If you want more inspiration, read this series of blog posts about using Personal Kanban.
Click here to see how my week of testing Personal Kanban went.
If you've tried The Repeat Test to increase your productivity, please vote in the poll below.
Here are the links to the productivity hacks I've tried so far: