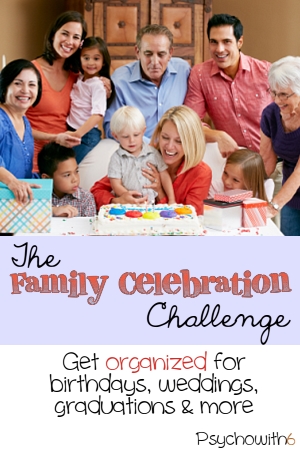 My oldest son is graduating from high school and I have a big party to plan. We also have a family wedding and two birthdays coming up. And don't forget about Mother's Day and Father's Day! Even if your family celebrations are planned for later in the year, this is the week to get a head start on them.
#1 Review your calendar
What family celebrations do you have coming up this summer and throughout the rest of the year? Do you have any milestone birthdays coming up?
When planning for occasions, consider celebrations that still have to be planned like showers. If you have family out of town, now is the time to find out their availability. We are scheduling my son's graduation party to coincide with his godmother's visit home for a wedding, for example.
#2 Discuss preferences
Getting organized means not making assumptions. We may assume Grandma wants a 70th birthday party, when she wants to take a family trip instead. Having discussions ahead of time can avoid hurt feelings and ruined budgets. This is important when planning Mother's and Father's Day celebrations, too.
#3 Plan parties
I love to plan parties. We've enjoyed so many fun parties over the years. I will write up the creative birthday party ideas we've used another time, but I encourage you to have celebrations. Parties are memory makers and are worth the time and reasonable expense. One of the things we have done to control costs is ask family and friends to bring food rather than gifts.
Party planning is a great opportunity to get the kids involved. Let them express their creativity in planning with you or in making decisions (within reason). Stumped for ideas? Follow the Party Fun with Kids board on Pinterest. If you have an extended family celebration, be sure to allow everyone to feel included. My mom helped me cook for several birthday parties and seemed to really enjoy it.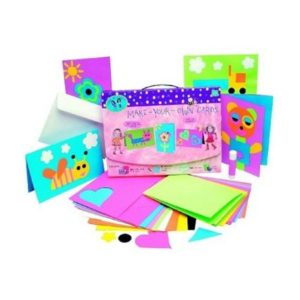 #4 Organize cards and gifts
Family celebrations wouldn't be complete without cards and gifts. This is a great time to have the kids make the cards you need for the year.  A kit like this could get their creative juices flowing. If you'd rather not make cards, this Paper Magic kit includes an organizing box, so your cards are ready to go when you need them. If you like even less work, I recommend Send Out Cards which allows you to get reminders of family occasions and send cards right from your computer.
When it comes to gifts, you can certainly make treasures like scrapbooks if you start early enough (like now!). My best suggestion for being organized with gifts is to choose a standard gift for occasions like weddings, bridal showers, births, and baby showers. You'll save time deciding and you can even save money, watching for the prices to drop before you buy. If you are interested in gift suggestions for kids' birthdays, be sure to check out 60 of the Best Christmas Gifts for Kids. Finally, I love the mGifts app on iTunes. Sometimes I find a great deal on a gift, but I don't know who to give it to at first. The app (and a gift storage area) allow me to stay organized.
What family celebrations do you have coming up and how are you getting organized for them?
Here is this month's printable get-organized homeschool calendar and a list of previous challenges.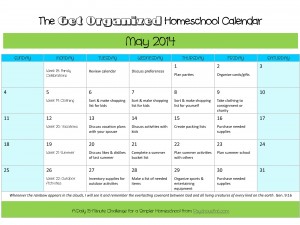 Organized Homeschool Challenge
Week 1: Daily Devotions Challenge
Week 2: Daily Routine Challenge
Week 4: Memory Keeping Challenge
Week 5: The Decluttering Challenge
Week 6: The Organized Computer Challenge
 Week 7: The Marriage of Your Dreams Challenge
Week 8: The Confident Parent Challenge
Week 9: The Extended Family Challenge
Week 10: The Bring on the Spring Challenge
Week 11: The Spring Cleaning Challenge
Week 12: The Organized Easter Challenge
Week 13: The Serve the Church Challenge
Week 15: The Organize Your Finances Challenge
Week 16: The Curriculum Challenge
Week 17: The Friendship Challenge