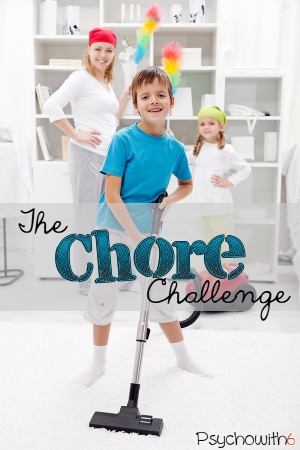 When I first got serious about getting my children's help with housework, I was most interested in them learning responsibility. Now I can't keep our home running without my kids. Take the chore challenge and your whole family will benefit for years to come.
#1 Determine the chores that have to be done each week
I recommend you limit your list to the absolute musts. Washing the baseboards isn't a weekly must, for example.
The easiest way to do this is to ask yourself what you want done morning and evening. To get you started, here are the chores we do both morning and evening:
Clear and wipe table and counters
Load dishwasher
Wash dishes that don't go into the dishwasher
Sweep kitchen and clear window seat
Pick up play room
Pick up school room
The kids do one additional chore each in the mornings in addition to their bedroom and joint bathroom.
Weekly chores in our home include dusting, vaccuuming, Swiffering, mowing (in season), and emptying garbage (and replacing can liners–you can't forget that!). The kids (ages 8 and up) are responsible for doing their own laundry on their assigned day.
#2 Assign chores to each child
Consult a list of age-appropriate chores like this one and discuss with your children which chores they are interested in learning. My children are now old enough that all of them are capable of doing any daily chore. When I rotated chores when the kids were younger, I helped the littlest do their chore if it was too much for them.
In our house, one child keeps the same weekly chore until he has matured to the next level. The youngest Swiffers while the oldest mows, for example. However, I recently demoted a child because he consistently failed to dust well. He is happier managing garbage and I am happier having the dusting done! This was a decision reached through family discussion.
#3 Choose a chore management system and set it up
I think I've tried just about every approach to chores there is. Everything has worked for a while, but then we get tired of it. The key for my family seems to be variety.
Our current approach for daily chores is a colored index card system.  The kids draw cards to see what their chores are. The hot pink cards are drawn morning and evening.  The neon yellow cards are for morning only. I've also created a set of orange cards for special once-a-week chores (e.g., cleaning the microwave) and a green set with spring cleaning tasks on them. One thing I've noticed is I need to rewrite the card as soon as the back gets a distinguishing mark on it. No cheating allowed!
Some considerations when choosing an approach to chores:
Does it require a lot of set-up or management time? Having to approve many individual chores for six kids on a computer was a nightmare for me, as was trying to determine point levels for each chore for rewards.
Does it offer convenient access? A computer program we used required individual logins. The bickering over access to the computer wasn't worth it for me.
Is it flexible? You will need to be able to change it without spending a lot of time on it. I remember Konos author, Jessica Hulcy, saying she would assign chores to her boys on index cards each day, depending on what she needed done. That's flexible!
Does it make it easy for you to check chores? The saying, "Inspect what you expect" is a wise one. Some methods I have tried for this include having a chore checker, shadowing one child during chore time, working on every room together as a family, not assigning myself chores so I have time to check, or taking turns doing the chore myself so I can see if it's being done correctly.
Does it offer enough variety? Some children want to have the same chores, while others will want to rotate them. Are your children like mine and want to use a new approach regularly? If so, don't spend a lot of time and money on something you'll all be bored with soon.
#4 Teach at least one chore
Surprisingly enough, we homeschool moms can forget that learning to do chores is just another subject. Kids can succeed when the work is broken the down into easy steps they can do.
Having the kids do their own laundry became so much easier when I taught them step-by-step how to fold clothes, for example. Model, have them try, encourage and correct, and when they've got it, keep doing spot checks. Kids have a habit of "forgetting" things they don't like to do.
I really like this DVD from Cleaning with Kids. She demonstrates an easy way to clean the shower and recommends kids clean in pairs. We used it as part of school one day.
Are you using a chore system that works for you? Tell us about it!
Be sure to follow the Organized Homeschool Board on Pinterest for more creative chore ideas.
Here is this month's free printable organized homeschool calendar for April 2014 and a list of previous weeks' challenges.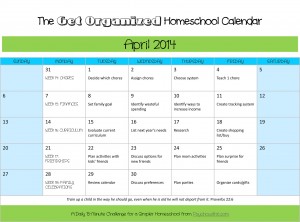 Organized Homeschool Challenge
Week 1: Daily Devotions Challenge
Week 2: Daily Routine Challenge
Week 4: Memory Keeping Challenge
Week 5: The Decluttering Challenge
Week 6: The Organized Computer Challenge
 Week 7: The Marriage of Your Dreams Challenge
Week 8: The Confident Parent Challenge
Week 9: The Extended Family Challenge
Week 10: The Bring on the Spring Challenge
Week 11: The Spring Cleaning Challenge
Week 12: The Organized Easter Challenge
Week 13: The Serve the Church Challenge