This is Week 17 of a Year of Living Productively
This week I tested Another Simple and Effective Method of Mark Forster's. I kept a paper task list, crossed off a task all the way across the page, and then did a task from each of the newly created sections of the list and so on. Scroll to the end of last week's post for details.
How Another Simple and Effective Method of Mark Forster's Saved My Sanity This Week
Had me excited to get things done. I don't test a method unless I really think there's a potential for it increasing my productivity and this was no different. I began the week very motivated.
How Another Simple and Effective Method of Mark Forster's Made Me Crazy This Week
Couldn't find the tasks. I made a list of 90+ tasks. That probably isn't the best approach to take with this method. I frequently had to do tasks regardless of where they were on the list because they became urgent. I couldn't find them then and it made the system super confusing once I did.
Open task list. One of the things I've learned thus far is that I function better using a closed list (one in which no new tasks can be added). I found myself feeling very resistant to adding tasks to the end of the list. I wanted a list that kept shrinking. I disliked this aspect of the approach so much, that I quit using it halfway through the week.
Competing interests. I haven't been feeling well this week. (I know I keep mentioning this without explaining. When I have an answer, I will be sharing on the blog. Until then, know that I'm pretty sure what the problem is and it's treatable.) When I don't feel well, I tend to do the must-do's only and I don't want to mess with an approach like this one. Finally, I'm finding that I'm extremely motivated by my summer project list. After the critical issues, I haven't wanted to do much of anything else but my weekly project. I have been in single focus mode and I suspect that I function best this way most of the time.
Did Another Simple and Effective Method Help Me Get More Done?
No. The open nature of the list and my circumstances this week didn't work for me. Your mileage may vary.
**UPDATE**
I not only don't use this approach, but I have had no desire to use a mammoth list of tasks to get things done for a long time.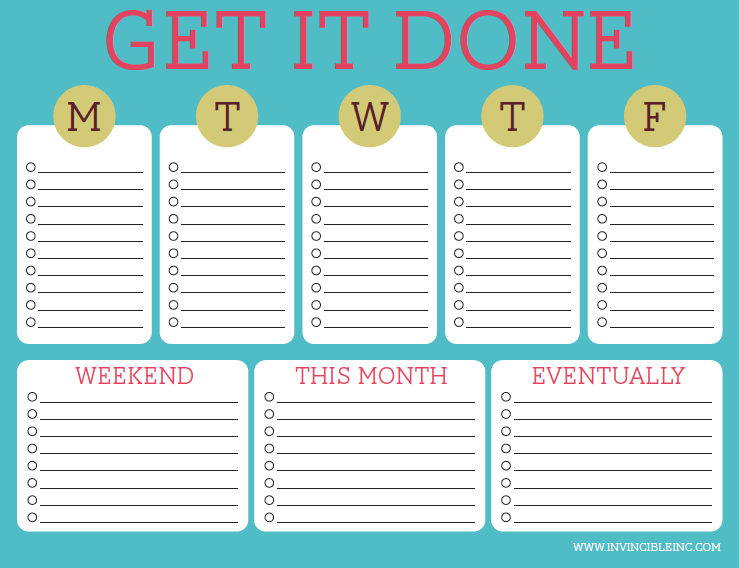 The Productivity Approach I'll Be Using for Week 18
This week I'll be testing Agota Bialobzeskyte's Daily/Weekly/Monthly To-Do List. I'll begin with a closed list of monthly tasks to accomplish. I'll base my closed weekly list of tasks on it and my daily list of tasks from the weekly list.
The concept. Agota has a problem with infinite to-do lists just like I do. She bases her approach on Scott Young's (who doesn't use a monthly list). By not being allowed to add more tasks to the lists when they're complete, you get a real feeling of accomplishment. By looking ahead for a month, you're including tasks other than what's right in front of you–enabling you to work ahead. Doing so enables one to feel on top of things.
If you'd like to join me this week, here's what you do. Read Agota's guest post on Productive Superdad, taking note of the FAQs at the end. Choose a means of making your lists. I'll be using paper for the monthly and weekly goals and will have digital daily lists that I will print out. Create your weekly list by drawing from your monthly list. Each day (either the night before or morning of), create your daily list based on your weekly list. Cross off tasks as you do them. Like the list above? It's not perfectly suited for this, but you can download it here.
Click here to see how my week with a daily/weekly/monthly to-do list went.
Are you on Pinterest? Follow my Organization and Productivity board.
If you've tried Another Simple and Effective Method to increase your productivity, please vote in the poll below.
Here are the links to the productivity hacks I've tried so far:
Week 16: David Seah's 7:15AM Ritual