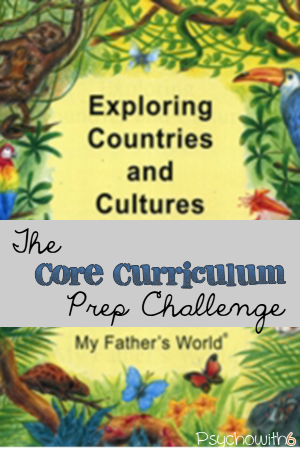 By core curriculum, I mean either a complete curriculum, like My Father's World, or core subjects like math, language arts, science, and social studies. This could be a busy week or an easy one, depending on what curriculum you are using in the next year. We will go through the same process we went through with special studies, so we are organized early.
#1 Set up system of organization
You may or may not need an organizational system for each subject. If you didn't do the  planning challenge, you may need to make sure lessons are noted in your child's planners and books are accessible to him.
#2 Research
This is the day to do research for ideas or materials you need to make your core subjects excellent. For example, I will be researching videos to add to my Mystery of History playlist on YouTube. I have to get busy on Volume II. As with special studies, you may want to see if someone has done the work for you, coming up with crafts, videos, songs, experiments, etc. to go with your chosen core curriculum. Organize your research digitally or using binders / file folders.
#3 Plan
Plan each subject, if necessary. I say "if necessary" because many subjects can be taught as written in the curriculum, with no extra planning necessary. If you need to plan in detail, consider creating an undated plan that you can add to a dated planner one week at a time. Nothing is more frustrating than creating all these dated lessons, only to get off schedule. Again, keep it simple. It's much easier to add ideas than it is to delete them and still feel like you're on top of your schooling. Extra time allows for some delight-directed learning, too. I love it when we do history and the kids ask to spend time learning more about a subject.
#4 Shop / List Materials
Purchase what you need for core curriculum now, if you haven't already. Things lab kits and craft supplies are appropriate here. Be sure to read the Special Study Prep challenge for more on this. You may wish to delay purchasing basic school supplies until they are on sale or have no sales tax (if your area has this weekend).
Here is the July Organized Homeschool Calendar and a list of previous weeks' challenges: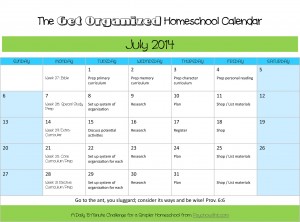 Organized Homeschool Challenge
Week 1: Daily Devotions Challenge
Week 2: Daily Routine Challenge
Week 4: Memory Keeping Challenge
Week 5: The Decluttering Challenge
Week 6: The Organized Computer Challenge
 Week 7: The Marriage of Your Dreams Challenge
Week 8: The Confident Parent Challenge
Week 9: The Extended Family Challenge
Week 10: The Bring on the Spring Challenge
Week 11: The Spring Cleaning Challenge
Week 12: The Organized Easter Challenge
Week 13: The Serve the Church Challenge
Week 15: The Organize Your Finances Challenge
Week 16: The Curriculum Challenge
Week 17: The Friendship Challenge
Week 18: The Family Celebrations Challenge
Week 19: The Organized Clothing Challenge
Week 20: The Organized Vacation Challenge
Week 21: The Organized Summer Challenge
Week 22: The Outdoor Activity Challenge
Week 23: The Used Curriculum Challenge
Week 24: The Homeschool Space Challenge
Week 25: The Goal Setting Challenge
Week 26: The Homeschool Planning Challenge
Week 27: The Bible Time Challenge
Week 28: The Special Study Prep Challenge