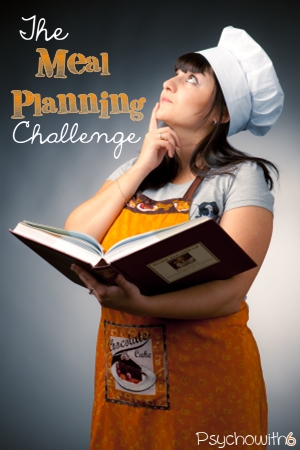 Last week we cleaned out the pantry by making some recipes to use up those orphaned ingredients. This week we'll decide what to eat for the next week or even next month, so we have time to do what we love best!
If you don't have a copy of The Once-and-for-All Meal Plan, I invite you to get it when you subscribe. If you don't like blog posts in your inbox, you can choose the weekly or freebies only option.  When you read it, you'll understand how to create one meal plan that will work for you and your family, no matter your taste or needs. Now on to this week's challenge!
#1 List favorite dinners plus one new recipe
To create a workable meal plan, you need a list of meals your family loves that you know you'll actually make. It's no use for me to write down my husband's family lasagna recipe. We love it, but it takes a long time to make, so I save it for special occasions. For this challenge, just write down regular weeknight meals that you like. You can definitely get the whole family involved in this week's challenge!
After you have a list of regular favorites, write down (or pin) one new recipe that you want to try. I've created a form, called the What We're Eating Form, to make this an easy process.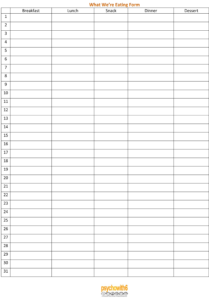 But what I love is how easy it is to add recipes to Plan to Eat (affiliate link because I'm crazy about it). If you're like me and don't have a recipe for some of your meals, search for a similar recipe on AllRecipes. When you find it, you can automatically add the recipe to your Plan to Eat recipes, modifying it if necessary before you save it. It's easy with the Plan to Eat browser extension.
But here's the really exciting part. You can also add new recipes you find on Pinterest to your list of recipes on Plan to Eat. Just click the pin to pull up the original recipe and use your browser extension to add it to Plan to Eat. I would love for you to follow my Dinner Recipes to Try Board on Pinterest. You might find a recipe you'd like to try, too.
If you have to manually enter a recipe to Plan to Eat, it's so easy! But you can absolutely do the same with paper.
#2 List favorite lunches plus one new recipe
Repeat the above process for lunches. I have a Lunch Recipes to Try board as well, but here's an easy lunch recipe my kids love to help make and eat.


#3 List favorite breakfasts plus one new recipe
Repeat the first process for breakfasts, remembering not to add time-consuming recipes to your list, unless you will really take the time to make them.  Of course I have a Breakfast Recipes to Try board, but what do you think of this Pumpkin Pie French Toast recipe? Yummy.
#4 List favorite snacks or desserts plus one new recipe
By now, I bet you're getting the idea! If you have snacks or desserts, list your favorites and find a new recipe to try. If you follow me on Pinterest, you'll see the snack and dessert recipes I pin and I find some great ones! When you're done with this last step, you  will have made great strides toward avoiding the indecision that can keep all of us from getting and staying organized.
What is one of your favorite weeknight meals?
Watch a video for this challenge!
 

Here is  a list of previous week's challenges:
Organized Homeschool Challenge
Week 1: Daily Devotions Challenge
Week 2: Daily Routine Challenge
Week 4: Memory Keeping Challenge
Week 5: The Decluttering Challenge
Week 6: The Organized Computer Challenge
 Week 7: The Marriage of Your Dreams Challenge
Week 8: The Confident Parent Challenge
Week 9: The Extended Family Challenge
Week 10: The Bring on the Spring Challenge
Week 11: The Spring Cleaning Challenge
Week 12: The Organized Easter Challenge
Week 13: The Serve the Church Challenge
Week 15: The Organize Your Finances Challenge
Week 16: The Curriculum Challenge
Week 17: The Friendship Challenge
Week 18: The Family Celebrations Challenge
Week 19: The Organized Clothing Challenge
Week 20: The Organized Vacation Challenge
Week 21: The Organized Summer Challenge
Week 22: The Outdoor Activity Challenge
Week 23: The Used Curriculum Challenge
Week 24: The Homeschool Space Challenge
Week 25: The Goal Setting Challenge
Week 26: The Homeschool Planning Challenge
Week 27: The Bible Time Challenge
Week 28: The Special Study Prep Challenge
Week 29: The Extra-Curricular Challenge
Week 30: The Core Curriculum Prep Challenge
Week 31: The Elective Curriculum Challenge
Week 32: The Back to School Challenge
Week 33: The Fall Bucket List Challenge
Week 34: The Organized Bedroom Challenge
Week 35: The Clean Out the Pantry Challenge
Follow Dr. Melanie Wilson @psychowith6's board Organized Homeschool on Pinterest.