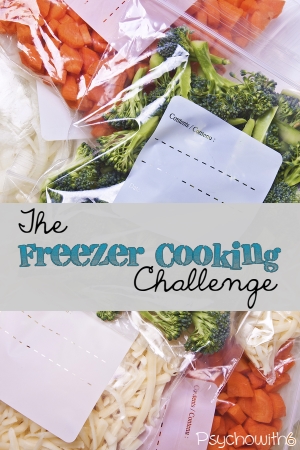 There are few sanity savers with more impact than having homemade meals in the freezer. The problem is getting them there! This week we'll take on that challenge so you can have more stress-free nights this fall. Let's get cooking!
#1 Decide on an approach
When we think of freezer cooking, we tend to think of it as an exhausting marathon. And it absolutely can be one! I have spent hours shopping one day and another day on my feet cooking. I have had the problem of not liking the recipes (be sure to see the meal planning challenge or my free meal planning ebook for how to fix this!) or of being downright phobic of ever repeating the process again!
Fortunately, there is another way. Just as you don't have to go from the couch to marathon running, you can start off slowly when it comes to freezer cooking. The simplest approach? Make a double batch of a favorite, freezable meal and pop it right into the freezer. I love it! Unless you do this a lot, you don't even need a lot of freezer space.
As you get comfortable, you can freeze more of the same meal (at one point I was making eight batches of one dish a week–something I could never do now that I have teenage boys!) or you could freeze a smaller number of meals, often made for the same cooking approach (like the crock-pot) or using the same kind of meat.
Yet another alternative is to work with a friend either to assemble the meals together or to make different options and exchange. I've talked about doing this many times, but haven't. If you have, I'd love to hear what you think!
If you're not sure where to start, I encourage you to start with doubling once a week and work up from there.
#2 Choose recipes and create a shopping list
If you're going to use a pre-made plan with recipes and a shopping list, this part will be easy. But remember how much time and money could be wasted if you don't like the recipes! Even if you double a new recipe, it will be disappointing if you hate it. I will say that I have been very happy with the freezer cooking plans from Saving Dinner. But we're all different!
If you're going to make your own favorites for the freezer, consider meals you like having regularly or meals that require more preparation. I always freeze homemade lasagna, because it does take more time. Then I can either enjoy it another night, or I have a perfect meal to bless someone else with.
If you're not sure if something you like would freeze well, consult this link.
Once you have your recipe(s), you'll need to create a shopping list. Be sure to include freezer bags or freezer containers for your meals! There are a number of options for creating that list (including good old-fashioned paper), but I am in awe of the new option available at Plan to Eat [affiliate link]. Plan to Eat will not only generate a shopping list for you based on the recipe you're making, but will keep track of how many of the same freezer meal you've planned on the calendar. Check it out!
#3 Shop and prep
If you're going to do a marathon freezer cooking session, you'll need extra time to shop and possibly some help, depending on the size of your family. If you're just going to double up on a meal, you'll be able to do your regular weekly shopping with no problem. On Plan to Eat, if you just want to make two batches of a recipe, just double the servings and your list will be updated in turn.
Even if you aren't freezer cooking, it's a great idea to prep for the week's meals when you get home from the store. Get fruits and veggies in ready-to-eat shape. Brown hamburger and put chicken in the oven. If you will be doing a big freezer cooking session, prepping items today will make it less likely that you'll collapse tomorrow!
#4 Assemble your recipes
If you're doubling up on one recipe, this will be easy peasy. If you're doing a marathon session, you'll be thankful you set up everything you need in advance. Put out the measuring cups, markers, freezer bags, etc. I put on an apron and line plastic pitchers with freezer bags for assembly. It makes it so easy!
If you have kids who are old enough to help, let them! If not, and you're prepping a lot of meals, see if you can get child care help. I've asked my husband to take the kids out for fun with him when they were younger. It worked great!
One more thing: if you're going to do an all-day cooking session, make sure to wear good, supportive shoes. If you've ever done it, you know why!
Have you ever done a big freezer cooking day? What did you think?
Here is  a list of previous week's challenges:
Organized Homeschool Challenge
Week 1: Daily Devotions Challenge
Week 2: Daily Routine Challenge
Week 4: Memory Keeping Challenge
Week 5: The Decluttering Challenge
Week 6: The Organized Computer Challenge
 Week 7: The Marriage of Your Dreams Challenge
Week 8: The Confident Parent Challenge
Week 9: The Extended Family Challenge
Week 10: The Bring on the Spring Challenge
Week 11: The Spring Cleaning Challenge
Week 12: The Organized Easter Challenge
Week 13: The Serve the Church Challenge
Week 15: The Organize Your Finances Challenge
Week 16: The Curriculum Challenge
Week 17: The Friendship Challenge
Week 18: The Family Celebrations Challenge
Week 19: The Organized Clothing Challenge
Week 20: The Organized Vacation Challenge
Week 21: The Organized Summer Challenge
Week 22: The Outdoor Activity Challenge
Week 23: The Used Curriculum Challenge
Week 24: The Homeschool Space Challenge
Week 25: The Goal Setting Challenge
Week 26: The Homeschool Planning Challenge
Week 27: The Bible Time Challenge
Week 28: The Special Study Prep Challenge
Week 29: The Extra-Curricular Challenge
Week 30: The Core Curriculum Prep Challenge
Week 31: The Elective Curriculum Challenge
Week 32: The Back to School Challenge
Week 33: The Fall Bucket List Challenge
Week 34: The Organized Bedroom Challenge
Week 35: The Clean Out the Pantry Challenge
Week 36: The Meal Planning Challenge
Week 37: The Grocery Shopping Challenge
Follow Dr. Melanie Wilson @psychowith6's board Organized Homeschool on Pinterest.