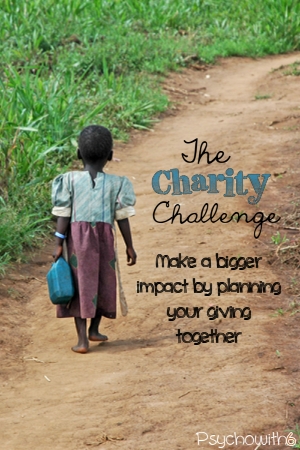 I'll admit it. I've missed opportunities to give to charities like Samaritan's Purse because I wasn't organized. This week, we will make sure this doesn't happen again! With the holidays approaching, charities and ministries are counting on our gifts of time and money. Here's how to get started:
#1 Discuss options and pray
The number of charities and ministries vying for my family's time and money is frankly overwhelming. I need to consult with my husband and children about where God is calling us to give. Of course, we don't want to be so planned that we can't respond to the Holy Spirit's prompting. But neither do we want to be wondering what to do about every need.
You may have discussed your budget for charitable giving during the Organize Your Finances Challenge. If not, this is the time to talk about how much money the Lord is calling you to give, aside from your tithe. Of course, that amount can change, but at least you will know approximate limits. You will also need to talk about your schedule and whether you can commit to one-time or ongoing service.
Make a list of charities you already give to or have the opportunity to give to. Pray about them and come to agreement about how you will invest the time and money God has blessed your family with. One thing you may want to consider is the personal connections God has used to introduce you to ministries. For example, we often give to missionaries we know personally because they know the needs of the people they're working with and ensure the money gets to the people. That isn't to say we don't give to organizations where there is no personal connection, but our loyalty is to those we know.
#2 Research
Once you have selected charities you would like to get involved with or to continue supporting, find out where the greatest needs are or where your family is uniquely suited to be of assistance. Many ministries have specific requests during the holidays, for example. Others may have days set aside for volunteers. Last year, we helped pack meals for Feed My Starving Children and I was so thrilled that:
My children were allowed to help
Our family learned what a blessing it is to have food to eat and to have an education
We discovered how much fun it can be to volunteer
I'm thankful that our good friend found out about this ministry and has been the liaison between our homeschooling group and the church sponsoring the ministry. We learned when they most need our help so we can volunteer again this week.
#3 Use your calendar and reminders
Add any deadlines or dates you find to your calendar for the upcoming months. I've had our meal packing day on the calendar for weeks so I wouldn't plan anything else for that time. If, for example, you learn that your shoe boxes for Samaritan's Purse are due in early November, set up a reminder at least a week ahead to take the kids shopping for items to fill them.
#4 Organize
Many of the charities we support (including our church) want us to buy gifts for needy children. If I don't plan for this and keep them in order, I can end up spending too much money or getting confused about why I bought what I bought. I love to shop for these gifts online during Black Friday week. I find fabulous deals on toys my kids are too old for or already have. I buy them to use for charity gifts. I keep them organized before I wrap them with the mGifts app.  You can also use a Christmas gift list like this one.
If you make gifts for charities or ministries, set up a gift making station. If possible, make an assembly line and let your kids get in on the action.
If you or your children are donating money to a charity, you may want to create a giving jar so the giving is tangible for kids. Or prepare a giving jar like this one with ideas for serving others. It's definitely not too early to get started!
Do you need to get organized to give like I do?
Visit Dr. Melanie Wilson @psychowith6's profile on Pinterest.
Here is the October 2014 Organized Homeschool Calendar and a list of previous week's challenges: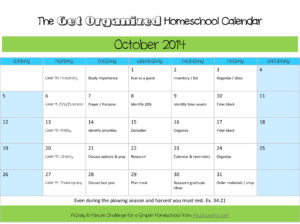 Organized Homeschool Challenge
Week 1: Daily Devotions Challenge
Week 2: Daily Routine Challenge
Week 4: Memory Keeping Challenge
Week 5: The Decluttering Challenge
Week 6: The Organized Computer Challenge
 Week 7: The Marriage of Your Dreams Challenge
Week 8: The Confident Parent Challenge
Week 9: The Extended Family Challenge
Week 10: The Bring on the Spring Challenge
Week 11: The Spring Cleaning Challenge
Week 12: The Organized Easter Challenge
Week 13: The Serve the Church Challenge
Week 15: The Organize Your Finances Challenge
Week 16: The Curriculum Challenge
Week 17: The Friendship Challenge
Week 18: The Family Celebrations Challenge
Week 19: The Organized Clothing Challenge
Week 20: The Organized Vacation Challenge
Week 21: The Organized Summer Challenge
Week 22: The Outdoor Activity Challenge
Week 23: The Used Curriculum Challenge
Week 24: The Homeschool Space Challenge
Week 25: The Goal Setting Challenge
Week 26: The Homeschool Planning Challenge
Week 27: The Bible Time Challenge
Week 28: The Special Study Prep Challenge
Week 29: The Extra-Curricular Challenge
Week 30: The Core Curriculum Prep Challenge
Week 31: The Elective Curriculum Challenge
Week 32: The Back to School Challenge
Week 33: The Fall Bucket List Challenge
Week 34: The Organized Bedroom Challenge
Week 35: The Clean Out the Pantry Challenge
Week 36: The Meal Planning Challenge
Week 37: The Grocery Shopping Challenge
Week 38: The Organized Kitchen Challenge
Week 39: The Freezer Cooking Challenge
Week 40: The Hospitality Challenge
Week 41: The Blog or Business Challenge