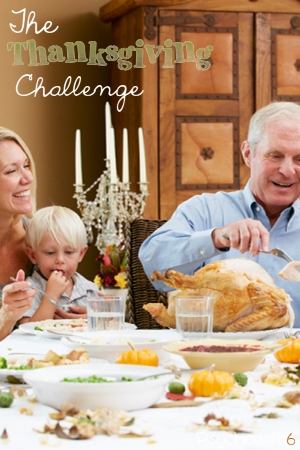 I love Thanksgiving, don't you? What I don't love is not being able to find my tablecloth and napkins and trying to thaw an overpriced turkey in record time. This week we'll get organized for Thanksgiving so we can have a relaxed holiday.
#1 Discuss last year
What did your family love about last year's holiday? What was a disappointment? You may be surprised by your children's answers to these questions. You may also want to ask if your celebration made them more aware of God's goodness as we want gratitude to be a prominent feature of the day.
#2 Plan the meal
Plan time-savers. Several years ago, I determined that I really didn't like getting up super early to bake a turkey. So I made it the day before and it made Thanksgiving a joy. My husband slices the turkey (we make two when we host extended family) and we store it in turkey broth to keep it moist for the next day. Look for ways to make the day of Thanksgiving less stressful if you're cooking.
Plan the meal itself. If your family does Thanksgiving pot-luck style, now is a great time to decide who will bring what. I like to make more than I think I'll need because we absolutely love Thanksgiving leftovers. If you don't have your holiday recipes organized, now is also a good time to find them. Fortunately, I've posted my mom's stuffing recipe on the blog, so it's easy to find!
Plan the decor and table settings. If you are hosting Thanksgiving and you already have the decorations and tableware you need, just make sure you know where they are! If not, look at some of the great ideas I've pinned on Pinterest. We have a large enough group, that I use paper for Thanksgiving and I found some fabulous paper goods at Hobby Lobby. I have also purchased my Thanksgiving decorations there for 50% off.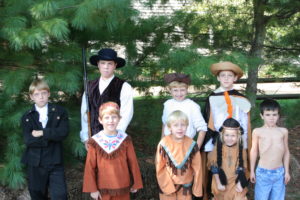 #3 Research gratitude ideas
This is the perfect time to plan a Thanksgiving unit study. Blessed Beyond a Doubt has put together a list of unit studies that you should definitely check out. Our homeschool co-op reenacted the first Thanksgiving one year, complete with a feast with our friends. If you've never done this, I highly recommend it!
If you're not ready to go all out with a unit study, decide on a special way of helping your children focus on gratitude this month. Read this post on how to teach your children gratitude and I'll be sharing another post on the subject this week. I've pinned some other creative ideas for teaching gratitude as well.
#4 Shop
It isn't too early to buy non-perishable items for your Thanksgiving meal. Whenever you buy, plan to hit the sales. If you need linens, paper goods, or materials for your Thanksgiving unit studies, buy them now. You'll be very thankful you did!
What's your favorite time-saver for Thanksgiving?
Here is the October 2014 Organized Homeschool Calendar and a list of previous week's challenges: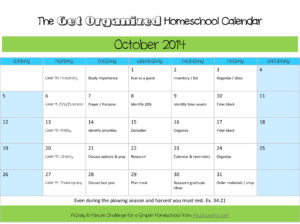 Organized Homeschool Challenge
Week 1: Daily Devotions Challenge
Week 2: Daily Routine Challenge
Week 4: Memory Keeping Challenge
Week 5: The Decluttering Challenge
Week 6: The Organized Computer Challenge
 Week 7: The Marriage of Your Dreams Challenge
Week 8: The Confident Parent Challenge
Week 9: The Extended Family Challenge
Week 10: The Bring on the Spring Challenge
Week 11: The Spring Cleaning Challenge
Week 12: The Organized Easter Challenge
Week 13: The Serve the Church Challenge
Week 15: The Organize Your Finances Challenge
Week 16: The Curriculum Challenge
Week 17: The Friendship Challenge
Week 18: The Family Celebrations Challenge
Week 19: The Organized Clothing Challenge
Week 20: The Organized Vacation Challenge
Week 21: The Organized Summer Challenge
Week 22: The Outdoor Activity Challenge
Week 23: The Used Curriculum Challenge
Week 24: The Homeschool Space Challenge
Week 25: The Goal Setting Challenge
Week 26: The Homeschool Planning Challenge
Week 27: The Bible Time Challenge
Week 28: The Special Study Prep Challenge
Week 29: The Extra-Curricular Challenge
Week 30: The Core Curriculum Prep Challenge
Week 31: The Elective Curriculum Challenge
Week 32: The Back to School Challenge
Week 33: The Fall Bucket List Challenge
Week 34: The Organized Bedroom Challenge
Week 35: The Clean Out the Pantry Challenge
Week 36: The Meal Planning Challenge
Week 37: The Grocery Shopping Challenge
Week 38: The Organized Kitchen Challenge
Week 39: The Freezer Cooking Challenge
Week 40: The Hospitality Challenge
Week 41: The Blog or Business Challenge
Week 43: The Charity Challenge