#1 Review all curricula for satisfaction
For those who keep a traditional school schedule, half the school year is nearly over. It's time to see how far we've come and to determine if any changes to our curriculum would move us forward. Simple Homeschool and The Mommy Mess both have great questions for us to answer as we do this mid-year review. Upside Down Homeschooling shares a free mid-year review printable just for this purpose.
#2 Discuss changes for what doesn't work
If you've determined that a particular curriculum doesn't work for you or your child, you don't necessarily have to quit using it and buy something else. Would you like it better if:
You did half of the exercises / activities?
Your child began using the curriculum independently, with others, or with you?
You used it as a supplement, pulling out the most valuable material?
I've used all three of these approaches to a curriculum that at first didn't seem like it was working and have had great success. I encourage you not to wait until after Christmas to make the change. It may make a world of difference in how you see the curriculum.
#3 Research options
Sometimes, no matter what you do, a curriculum or teaching approach just isn't the right fit. Then it's time to do some more research. If you did the curriculum challenge, you may want to return to the information you gathered then.
#4 Purchase / List items
Fortunately, many curriculum providers have materials on sale and many homeschoolers like you choose now to sell their used curriculum. You may pick up a bargain.
How have your curriculum choices been working for your family so far?
Follow Dr. Melanie Wilson @psychowith6's board Organized Homeschool on Pinterest.
Here is the December 2014 printable Organized Homeschool calendar and a list of previous challenges: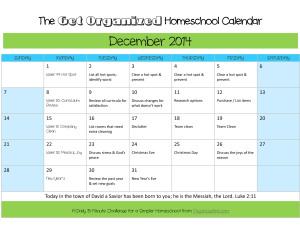 Organized Homeschool Challenge
Week 1: Daily Devotions Challenge
Week 2: Daily Routine Challenge
Week 4: Memory Keeping Challenge
Week 5: The Decluttering Challenge
Week 6: The Organized Computer Challenge
 Week 7: The Marriage of Your Dreams Challenge
Week 8: The Confident Parent Challenge
Week 9: The Extended Family Challenge
Week 10: The Bring on the Spring Challenge
Week 11: The Spring Cleaning Challenge
Week 12: The Organized Easter Challenge
Week 13: The Serve the Church Challenge
Week 15: The Organize Your Finances Challenge
Week 16: The Curriculum Challenge
Week 17: The Friendship Challenge
Week 18: The Family Celebrations Challenge
Week 19: The Organized Clothing Challenge
Week 20: The Organized Vacation Challenge
Week 21: The Organized Summer Challenge
Week 22: The Outdoor Activity Challenge
Week 23: The Used Curriculum Challenge
Week 24: The Homeschool Space Challenge
Week 25: The Goal Setting Challenge
Week 26: The Homeschool Planning Challenge
Week 27: The Bible Time Challenge
Week 28: The Special Study Prep Challenge
Week 29: The Extra-Curricular Challenge
Week 30: The Core Curriculum Prep Challenge
Week 31: The Elective Curriculum Challenge
Week 32: The Back to School Challenge
Week 33: The Fall Bucket List Challenge
Week 34: The Organized Bedroom Challenge
Week 35: The Clean Out the Pantry Challenge
Week 36: The Meal Planning Challenge
Week 37: The Grocery Shopping Challenge
Week 38: The Organized Kitchen Challenge
Week 39: The Freezer Cooking Challenge
Week 40: The Hospitality Challenge
Week 41: The Blog or Business Challenge
Week 43: The Charity Challenge
Week 44: The Thanksgiving Challenge
Week 45: The Christmas Plan Challenge
Week 46: The Christmas Decorating Challenge
Week 47: The Christmas Shopping Challenge
Week 48: The Home Ec Challenge
Week 49: The Hot Spot Challenge