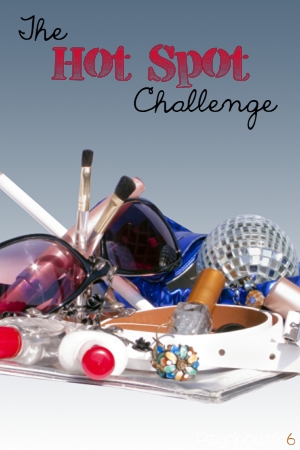 I don't know about you, but with all the holiday happenings, my hot spots have been blazing out of control. What's a hot spot you say? FLYLady would tell you it's a place in your home where you tend to drop things and run. Unless you regularly clear these places or devise a plan for keeping them clear, you can have a hot mess. In just a few simple steps this week, we'll take care of our hot spots.
#1 List all hot spots; identify the worst
With your family, make a list of all the places where stuff tends to accumulate. In our home, that's our entry way, dining room table, upstairs landing, and entrance to the storage area. Right now the worst is the entrance to the storage area.
#2 Clear a hot spot & prevent it from heating up again
Work on your worst hot spot today. Declutter it and clean it. Teach the kids where to put items. Our dining room often becomes a hot spot because the kids don't know where to put the mail that is often left there. I have been teaching them to put it in my mail slot in my kitchen. Problem solved. Need ideas for managing paper clutter? Be sure to read my advice on Davonne Parks's blog.
How can you prevent it from becoming a mess again? I have two suggestions. First, come up with a practical way to collect the clutter. For example, I repurposed a toy chest into a place for winter coats in my entryway. The kids don't want to take the time to hang them, so I accepted that and allow them to stuff them out of sight. Do you need a basket to collect items that can be sorted later? Ask the kids and your spouse what would work and give it a try. You can also find great hot spot prevention ideas on my Organized Homeschool board on Pinterest.
You can always evaluate the success of your first effort at controlling the hot spot later and try something else if need be.
The second suggestion I have is to make clearing the hot spot a chore that is done once or twice a day. Our entryway is assigned as a chore twice a day, for example, and these two suggestions have kept the area from becoming a disaster.
#3 Clear another hot spot & prevent it from heating up again
You guessed it. Now that you've addressed your biggest hot spot, move on to the second biggest.
#4 Clear another hot spot & prevent it from heating up again
Now you're a pro. Clean a third hot spot and determine a way to keep it clean.
Do you have any hot spot dilemmas? Areas that you just can't seem to keep free of clutter?
Follow Dr. Melanie Wilson @psychowith6's board Organized Homeschool on Pinterest.
Here is the December 2014 printable Organized Homeschool calendar and a list of previous challenges: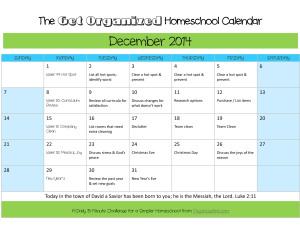 Organized Homeschool Challenge
Week 1: Daily Devotions Challenge
Week 2: Daily Routine Challenge
Week 4: Memory Keeping Challenge
Week 5: The Decluttering Challenge
Week 6: The Organized Computer Challenge
 Week 7: The Marriage of Your Dreams Challenge
Week 8: The Confident Parent Challenge
Week 9: The Extended Family Challenge
Week 10: The Bring on the Spring Challenge
Week 11: The Spring Cleaning Challenge
Week 12: The Organized Easter Challenge
Week 13: The Serve the Church Challenge
Week 15: The Organize Your Finances Challenge
Week 16: The Curriculum Challenge
Week 17: The Friendship Challenge
Week 18: The Family Celebrations Challenge
Week 19: The Organized Clothing Challenge
Week 20: The Organized Vacation Challenge
Week 21: The Organized Summer Challenge
Week 22: The Outdoor Activity Challenge
Week 23: The Used Curriculum Challenge
Week 24: The Homeschool Space Challenge
Week 25: The Goal Setting Challenge
Week 26: The Homeschool Planning Challenge
Week 27: The Bible Time Challenge
Week 28: The Special Study Prep Challenge
Week 29: The Extra-Curricular Challenge
Week 30: The Core Curriculum Prep Challenge
Week 31: The Elective Curriculum Challenge
Week 32: The Back to School Challenge
Week 33: The Fall Bucket List Challenge
Week 34: The Organized Bedroom Challenge
Week 35: The Clean Out the Pantry Challenge
Week 36: The Meal Planning Challenge
Week 37: The Grocery Shopping Challenge
Week 38: The Organized Kitchen Challenge
Week 39: The Freezer Cooking Challenge
Week 40: The Hospitality Challenge
Week 41: The Blog or Business Challenge
Week 43: The Charity Challenge
Week 44: The Thanksgiving Challenge
Week 45: The Christmas Plan Challenge
Week 46: The Christmas Decorating Challenge
Week 47: The Christmas Shopping Challenge
Week 48: The Home Ec Challenge